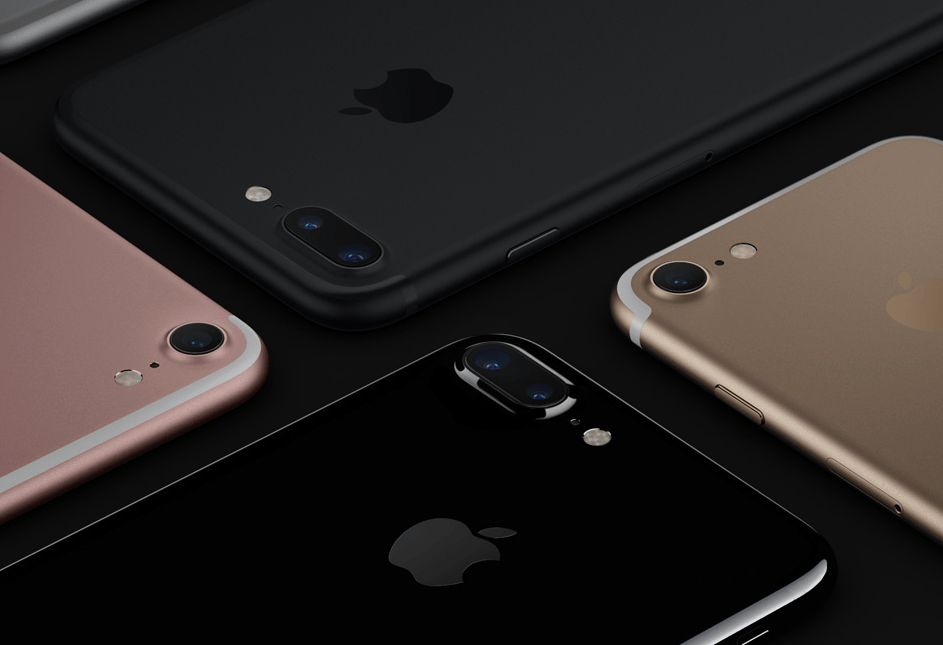 Wednesday, September 7, Apple announced new mobile product offerings, including the iPhone 7 and 7 Plus devices, Apple Watch Series 2, and Apple's first wireless earbuds, the AirPods. In standard fashion, Apple had a few tricks that were not released during the vicious rumor cycle, which spiked on Tuesday, even after Apple's newly utilized Twitter account accidentally sent tweets and videos out ahead of their actual announcements. With everything now officially announced and posted, take a quick overview of what you may have missed during the two-hour session.

iPhone 7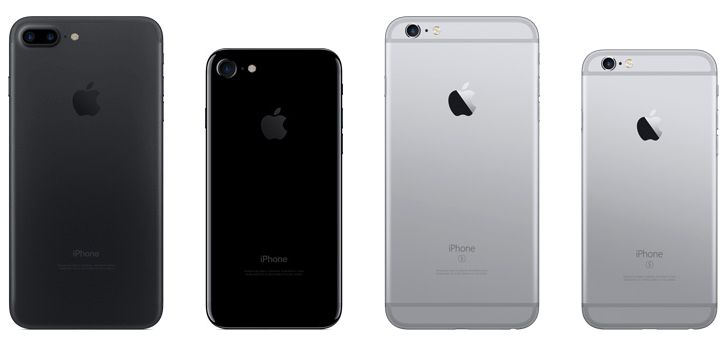 First of note with the iPhone 7 is the form factor, which is exactly the same as the previous iPhone 6 models, to the millimeter: 7 Plus – height 158.2mm, width 77.9mm, depth 7.3mm; iPhone 7 – height 138.3mm, width 67.1mm, depth 7.1mm.
However, with Apple removing the headphone jack, we need to test if our charging cables will support both charging and audio in your vehicle. Our charging holders will be tested with iPhone 7 when we receive the phone on August 16th.
If you are currently using any of our custom or adjustable non-charging phone holders for your iPhone 6s or 6s Plus, the same holders will work if you decide to upgrade to the iPhone 7.
Here are the non-charging holders we have available now:
Aside from size, there are smaller antenna bands, a dual lens camera for iPhone 7 Plus, and new colorways, "Jet Black" and "Black," which are a big difference over Space Gray. In a positive move for consumers, Apple announced the entry level models will begin at 32GB capacity, followed by 128GB and 256GB. The new Retina HD display offers a wider color gamut and enhanced 3D Touch. The new Taptic Engine also plays nicely with the new solid state Home button, which no longer depresses. As rumored, the device lacks a 3.5mm headphone jack.
The biggest difference between the 7 and 7 Plus is the dual lens camera. The 7 Plus offers two 12MP cameras, one with a telephoto lens, offering true 2x optical zoom, with a software digital zoom up to 10x. The resolutions will remain the same as iPhone 6s at 1920 x 1080 and 1334 x 750, but with the increased color display (P3) and additional max brightness levels, expect the screen to be a marked improvement.
iPhone 7 and 7 Plus will be available for pre-order starting at 12:01AM PST, Friday, September 9 through Apple and cellular carriers. The devices will be available in-store, for pick up, or delivery, on Friday September 16.
Apple Watch Series 2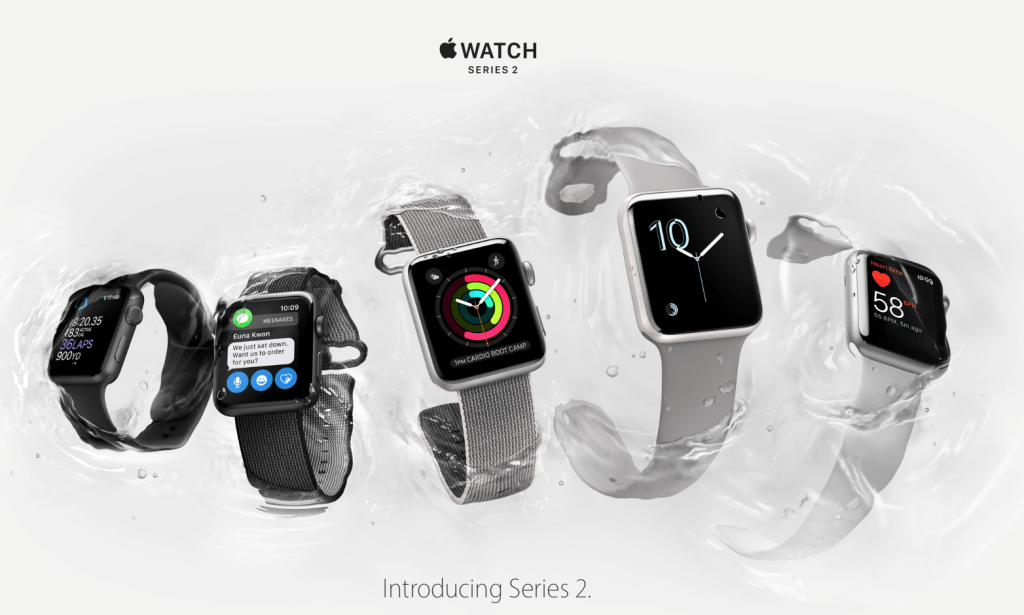 Apple Watch Series 2, instead of "Apple Watch 2," is a small-step improvement over the original Apple Watch. The original Apple Watch is no longer offered, in favor of a Series 1 successor. Consequently, consumers can now choose between the Apple Watch Series 1 or four Apple Watch Series 2 devices. The chart below sums up the changes very well, but it ultimately comes to a difference in GPS, water resistance, dual core processors, and a 2x brighter display on the Series 2 models.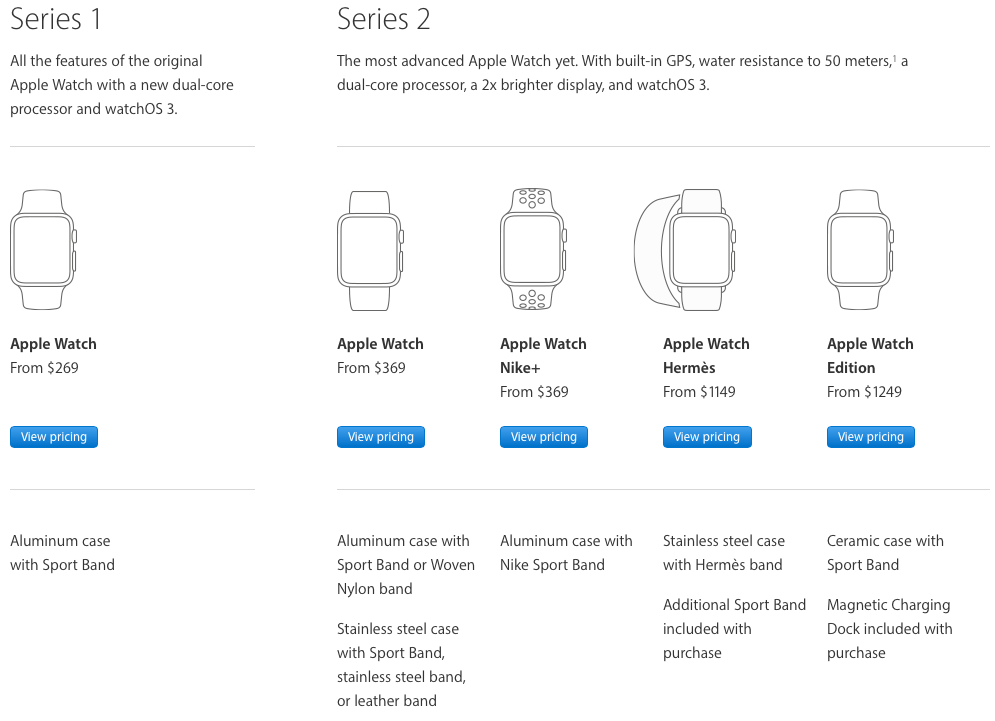 The Series 2 also comes in new versions, Apple Watch, Nike+, Hermès, and Edition, which is now Ceramic instead of Gold. Apple Watch Nike+ is made with the runner in mind. Giving the wearer constant motivation to get up and move, even challenging them to participate in a global mile-challenge on Sunday afternoons.
Pricing for the Series 1, which offers an upgraded dual-core processor from the original Apple Watch, starts at $269, while Series 2 begins at $369.
AirPods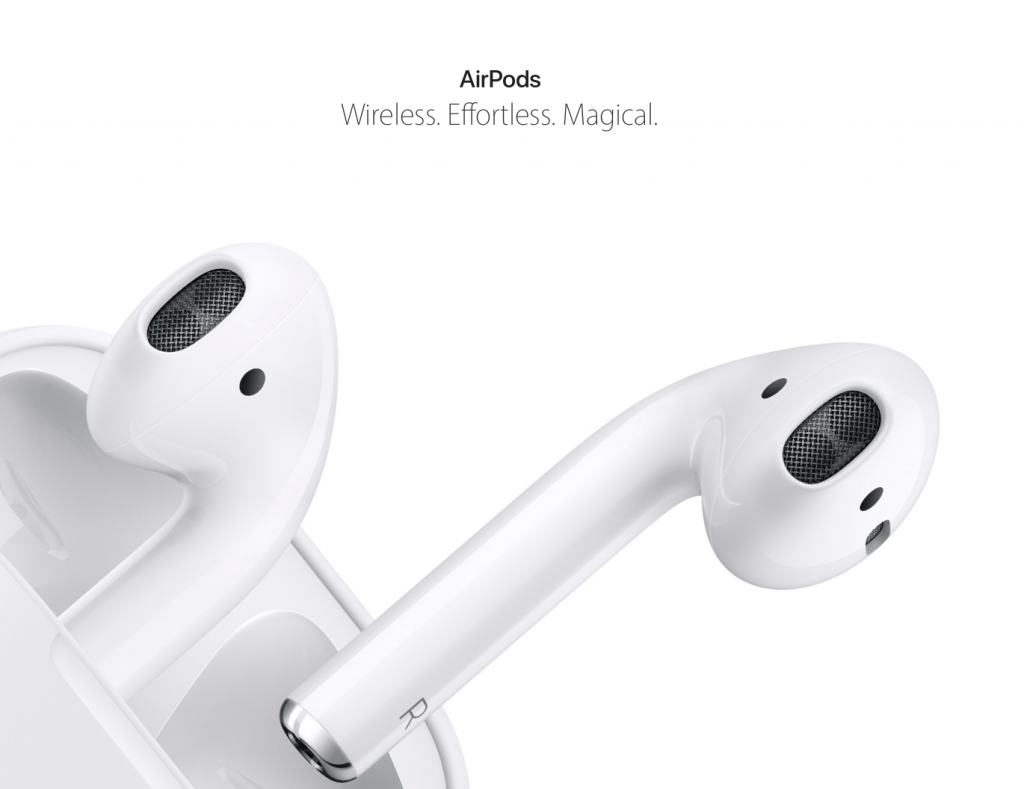 Apple's newest "magical" device is the AirPod. A wireless, bluetooth based ear bud set that will be available in October. The AirPods include an onboard W1 custom silicon chip that provides a better wireless connection for improved sound. The new wireless option will not ship with iPhone 7 due to the later release date. Consequently, new iPhone 7's will be shipped with Lightning EarPods and a Lightning to 3.5mm dongle.
The AirPods include an onboard mic, which allow for calls and interacting with Siri. The AirPods are touch sensitive, using onboard accelerometers. Consequently, it is not the actual surface-touch that creates the interaction, it is the movement of the AirPod when you intentionally tap the device. Beam forming mics prevent pulling ambient noise and an included charging case will recharge your buds on the go. You can nab these in October for $159.