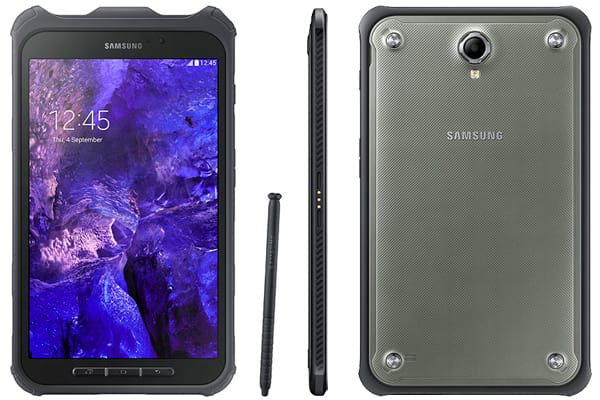 Samsung's Galaxy Tab 4 Active tablet proves it's a force to be reckoned with when it comes to enterprise and small business mobile solutions. A close look at this tough tablet reveals both its strengths and weaknesses. However, Samsung's rugged addition to its Galaxy Tab line gets sturdy reviews from the mobile community.
Strengths:
Hard, shell-style protective case features Water/Dust Resistance with Anti-Drop/Shock Protection
Ruggedized, durable port builds
C-Pen stylus
Removable battery with life up to 12 hours
8″ display
16 GB storage
Built Enterprise-Ready and Productivity-Ready with Samsung Knox and NFC
Certified Citrix-Ready and SAP-Certified for SAP Work Manager and SAP CRM Service Manager
Weaknesses:
More expensive at $555.00
Poor resolution at 1280 x 800 (189 ppi)
Only has one MicroUSB port
Poor camera (3.1 MP)
Speakers at back of unit creates muffled sound when laid on it's back
Bottom Line:
The Tab 4 Active boasts enterprise features combined with durability that makes this a great solution for business use while out in the field.
Galaxy Tab 4 Active Tablet Holders:
Our table holders are the first step in our two-step mobile mounting solution. ProClip offers 12 tablet holder options for the Galaxy Tab 4 Active in both charging and non-charging options. We also feature holders in locking and non-locking options. Our Spring Lock for Quick Release are the only holder on the market that has been Crash-Tested and Approved.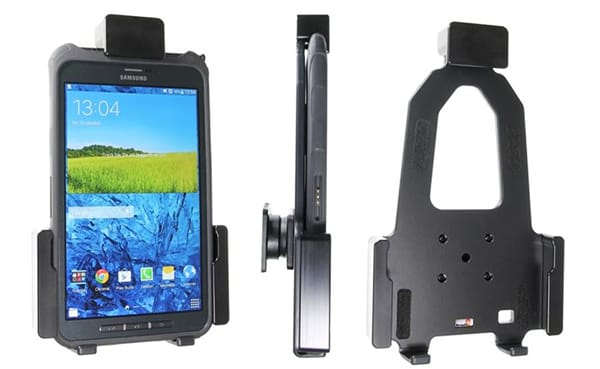 Part Two of our mobile mounting solutions is choosing the right mount. We offer tablet mounts for the vehicle or table top – depending on your needs.
Our dashboard device mounts are customized to the make, model and year of your vehicle, guaranteeing you the best fit and options possible for viewing your while driving – keeping your eyes where you need them most: on the road.
Business and Enterprise Solutions:
ProClip offers business mounting solutions that meet your business needs. Check out our mounting and mobile device holder options for Fleet Management, Health Care, Public Safety, Retail/Point of Sale, Taxi/Limousine and Warehouse solutions.