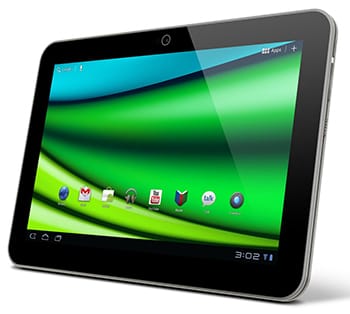 In early July, Toshiba will release its latest tablet: the Excite Go. Excite Go is a 7-inch tablet that comes with decent, if not stunning, specs. What makes the Excite Go stand out, though, is its low price tag of $110.
Toshiba's Foray into Entry-Level Tablets
At just $110, the Excite Go is Toshiba's first true foray into the sphere of entry-level tablets. Until recently, only lesser known companies were able to produce Android devices at this price point. For example, Toshiba's least expensive tablet to date was the brand's Windows tablet, which retailed for $199. With a price that was $80 more than the Excite Go, Toshiba's Windows tablet targeted a different consumer than the Excite Go will. With the Excite Go, Toshiba is bringing brand-name quality to this formerly off-brand price range.
Toshiba is not the only well-known brand vying for a share in the entry-level Android tablet market. In May, almost two full months before Excite Go will be available in the United States, HP released the new HP 7 Plus. Priced at $99, the HP 7 Plus is both cheaper and came out prior to the Excite Go. Toshiba is counting on the Excite Go's specs to give it a competitive advantage over HP's offering. While HP installed Android 4.2.2 Jelly Bean on the HP 7 Plus, Excite Go will come equipped with Android 4.4 KitKat.
The Excite Go's Specs
In addition to running KitKat, Excite Go will feature:
a quad-core Intel Atom processor
1024 x 600 resolution
a 7-inch screen
8 GB of storage
a microSD slot
an 8-hour battery life (6.5 hours when watching videos)
Toshiba is also including Office Suite Pro, a $15 value, with the purchase of an Excite Go. There are tablets with fancier specs, but they also come with higher price tags. At just $110, the Excite Go is well worth a look from anyone who is seeking a new tablet and on a budget.
Accessories Worth Considering
Excite Go will come with almost everything one needs, but there are a few accessories worth considering. If you are planning on ordering the Excite Go, consider also getting a:
protective case
a Bluetooth set
Protecting your new investment will be important, but being able to use your new Excite Go will also be equally important. Having a car mount and a Bluetooth set will let you use it no matter where you are, while the protective case will ensure that it remains safely guarded against damage.