Since our founding nearly 14 years ago, we have made it a priority to develop a full line of mounting solutions for mobile devices from Zebra Technologies. In recent years, we have had the opportunity to work with Zebra even more, resulting in the development of several successful products. ProClip is proud to be among a select group of Zebra Independent Hardware Vendor (IHV) Program Partners.
At ProMat 2017, we were able to show off our thriving collaboration with Zebra. There were several ProClip-Zebra developed cradles displayed for the ET5x Tablet, TC7X Handheld and the innovative TC8000 Touch Mobile Computer for the warehouse.
Industry leading distributors such as Bluestar and Scansource, Inc. have leveraged our relationship with Zebra to offer a growing range of Zebra device mounting solutions to their VAR customers. These value-added distributors have found ProClip to effectively complement the Zebra accessory offering. Their customers are given many options to address project-specific mounting requirements. The proper selection and implementation of the right mounting solution can make the difference between success and failure.
ProClip Adds Value in Any Vertical
Value Added Resellers and Solutions Integrators who bundle their existing Zebra product offering with ProClip mounts can add value by addressing use-case specific challenges in many different verticals, including Fleet, Warehouse and Healthcare.
"Among the most rewarding aspects of my job is working with Zebra team members in different vertical markets across the country to solve real problems and drive immediate value for our mutual customers. Zebra mobile devices and ProClip mounts make for a very compelling solution. We are proving it every day."
-Jason Bridwell, Key Accounts Manager for the Americas at ProClip
1. Warehouse & Material Handling
We have rugged mounts and holders for Zebra devices commonly deployed in the warehouse or on the manufacturing floor. Addressing an increasingly common warehouse request, ProClip Forklift Mount Kits are the convenient and durable choice for mounting virtually any Zebra mobile computer or tablet device onto a forklift, lift truck or other warehouse equipment. With the ProClip HD Pedestal mount system, there is no Zebra mobile device that cannot be securely mounted and charged in the most demanding locations in the warehouse or factory.
2. Fleet & Transportation
We offer a wide range of custom device holders and powered vehicle cradles for Zebra devices often utilized in delivery and freight vehicles, including the MC67, TC75, MC9500, and new and upcoming ET5x devices. Our vehicle-specific custom dashboard mounts provide a solid mounting surface for your Zebra device holder without requiring holes to be drilled into the vehicle dashboard, a significant value for clients with leased vehicles.
ELD Mandate
We are also very active in supplying mounting solutions for fleets and owner operators to help them become ELD compliant. The ELD mandate requires all commercial motor carriers and truck drivers to implement certified ELDs (Electronic Log Data) to record HOS (Hours of Service) by December 2017.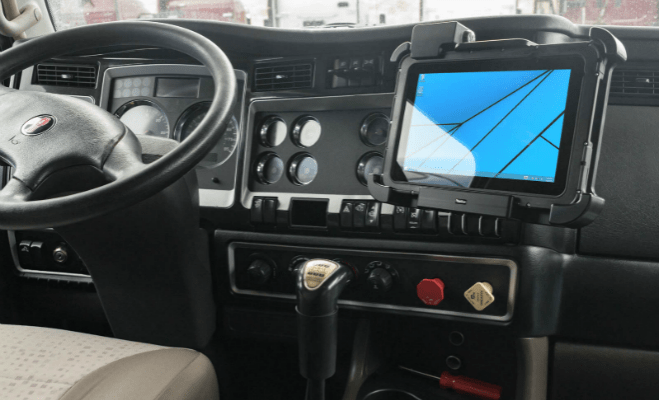 3. Healthcare
Widely used for label printing on mobile work stations and within patient rooms, the Zebra QLN220/320 and ZD410/420, & ZQ520 printers are a popular solution in the healthcare vertical. In a hospital setting, the position of instruments and technology is critical to the care patients receive. ProClip printer mounts combine industrial strength and durability with ease of installation and operational use. They can also mount to walls, medical carts, work desks, IV Poles and even patient beds. The better the mount location and printer positioning, the better the user experience and overall success of the deployment and the technology initiative.
We have experienced and highly capable design and production teams for all business verticals. Manufacturing is done by precision CNC machining (vs. injection molding) which enables rapid turn times for new product development and prototyping, as well as cost effective smaller volume production runs.
Contact a ProClip Sales Representative today to discuss adding ProClip mounting solutions to your Zebra mobile device offering!