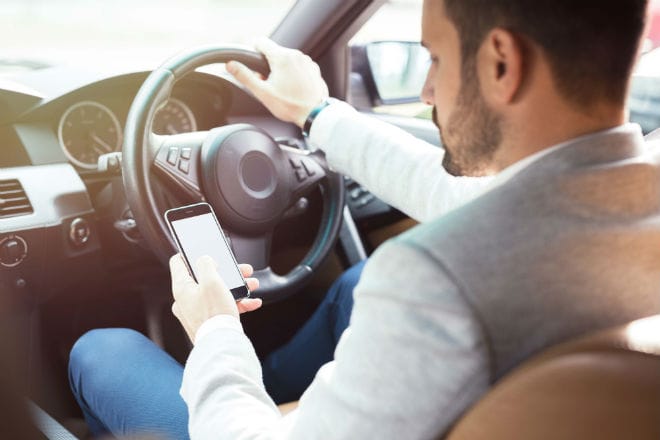 Fall is here, which means it is 'new phones' season. Apple has come out with the iPhone 8/8 Plus and iPhone X, while Samsung has come out with the Galaxy Note8. Although these smartphones come with great, new features, using them while driving is very dangerous. Texting while driving raises the chance of an accident occurring by 23 times. According to the Oregon Department of Transportation, more than 11 people die in distracted driving crashes and over 2,800 are injured each year, on average, in Oregon. To help increase safety while on the road, Oregon passed a hands-free driving law making it illegal for Oregon drivers to use hand-held devices while on the road, even at a stop sign, stop light or sitting in traffic.
Oregon Hands-Free Driving Law
Starting October 1st, drivers in Oregon are unable to use any hand-held electronic devices while behind the wheel, including smartphones, tablets, GPS or laptops. The previous cell phone driving law only prohibited texting and talking on the phone. This new law now includes browsing social media apps, navigation and anything else that can be done on a hand-held electronic device.
If drivers do not abide by this law, the first distracted driving offense is a $260 fine, with a maximum of $1,000. A second-time offense, or one involving a crash, would be a minimum of $435 and a maximum fine of $2,500. If a driver commits a third distracted driving offense, the minimum fine is $2,000, but repeat offenders could face up to one year in jail.
Oregon is not the only state to take distracted driving as a serious offense. California and Washington also passed similar distracted driving laws earlier in 2017. Many other states also have cell phone driving laws revolved around distracted driving to make the road safer for people.
Oregon's hands-free driving law exempts medical/emergency vehicles and truck and bus drivers following federal rules. For everyone else, the only exception is using the device in hands-free mode or Bluetooth.
Stay Hands-Free with ProClip Phone Mounts
To follow this law and to be safe while driving, mount your phone on the dash to keep you hands-free. ProClip takes safety seriously and has therefore created products to keep you and your device secure while on the road. The ProClip solution comes with two-parts; the device-specific phone holder and the vehicle-specific mount. Made of high-grade ABS plastic, you can count on your phone to stay exactly where you want it and be protected no matter your destination.
According to our customers, the #1 reason they chose ProClip is due to the custom fit of the product. 97% of ProClip customers also feel accessing their phone in the car is more convenient, especially for hands-free calling and navigation. Be a safe driver and stay hands-free while on the road!