NFC Chip Location Spotted on iPhone 6 Logic Board
For several years, bloggers and news outlets hypothesized Apple's inclusion of Near Field Communications (NFC) inside the iPhone. To date, none of Apple's devices include NFC capabilities and, on several occasions, Apple seniors have indicated the technology was not yet ripe enough to include.
Leaning in the direction of Bluetooth 4.0 or BLE, low energy, or iBeacon technology, some pundits assumed Apple's secret labs were concocting other form of near wave communication tool to usher in a new generation of NFC, but not necessarily NFC itself. Apple has speculated at being highly interested in mobile payment structures, depending on how it was implemented. Of course, Apple will not jump into something  not yet proven by other channels.
As such, one could argue the time for Apple to provide a mobile payment system is now. The proliferation of NFC is world wide. Although every single payment location is not laden with NFC possibilities, there are many tap-to-pay systems deployed. If Apple were to join the NFC crowd, you can easily bet, many more businesses would get on board with NFC.
Take also, Apple's full year to perfect the Touch ID scanner built into iPhone 5s. In addition to having one of the most secure entry points, thanks to the secure enclave in which the finger print is stored, Apple has approximately 800 million credit cards on file, according to Business Insider. Just the combination of Touch ID and the massive amount of active credit cards, should make Apple want to pursue mobile payments.
Like several years prior, the NFC rumor kicked back up on Wednesday, August 27. There have been sketchy part leaks in the past as well, pointing out potential NFC communication chip locations; However, there appears to be renewed belief with the leaked logic boards, for both the alleged 4.7″ and 5.5″ iPhone 6 models.
The highlighted area in both images above, pinpoint the location in question. In the top most image, the iPhone 5s logic board sits between the two newly leaked parts. As can be seen in the comparison spread, the bottom of the two new logic boards is completely different than the current 5s. The square block of contact points, boxed in red, is the current point of question.
NFC logic board claims in the newest rumor do help corroborate earlier reports from a Chinese repair company, GeekBar. The site claimed to have a leaked iPhone 6 wiring schematic for an NFC chip, the PN65 by NXP. Originally, the leak was given only a small glance; however, with the wiring schematic (below) and the logic board leaks, there may be enough smoke for a fire.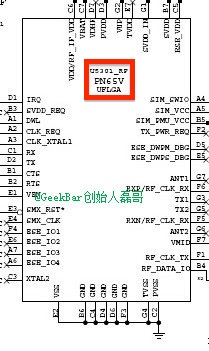 Of course, as with all iPhone rumors, none will be confirmed until the Apple media event. Even the event date is rumored, but nailed down for September 9, with a launch date following on September 19. If these dates are expected to be true, look for an Apple invitation to be sent on Tuesday, September 2, just one week prior to the estimated announcement event. Once the invitation hits the press, it will only be seconds before more rumors will fly based solely on the invitation's design.
[source: MacRumors forum member chrmjenkins]