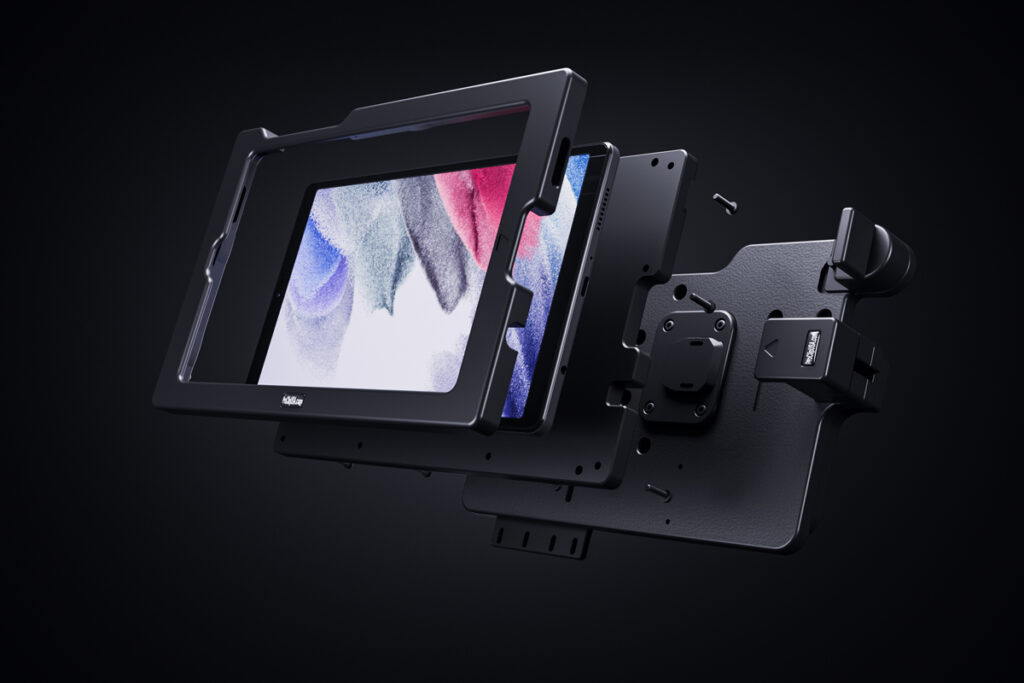 Introducing the ModTek System
Integrate the unparalleled protection of the ModTek Hard Case and unleash the power of USB-C with the ModTek Dock for simultaneous rapid charging and high-speed data transfer for the next generation of device mounting.
ProClip is proud to announce the release of its latest mounting solution, the ModTek System. Designed to revolutionize the way tablets are protected and used, this rugged case and dock combination offers unrivaled durability, convenience, efficiency and compatibility while enabling simultaneous charging up to 100W and data transfer up to 5Gbps on a single USB-C cable.
Protecting Your Tablet
The ModTek Hard Case (patent pending) offers the ultimate tablet protection. It shields your tablet from daily wear and tear in the harshest working conditions while providing easy access to buttons, ports, cameras and the screen. This robust case offers drop protection on par with previous ProClip offerings, but with a twist—it's lighter, more affordable, and allows for direct access to the USB-C connector in the tablet.
Universal Compatibility and One-Handed Docking
The ModTek Dock (patent pending) perfectly complements the ModTek Hard Case. It features two raised mounting points that align with the Hard Case. The quick release dial (patent pending) allows for effortless one-handed docking and undocking to the protected USB-C plug. The ModTek Dock is universally compatible with all current and future ModTek Hard Cases, ensuring longevity and reducing overall costs by accommodating device updates without the need for dock and/or power supply replacements.
Embracing USB-C for High-Speed Data
USB-C is the future of data and power delivery technology. Unlike traditional pogo pin connections, which are susceptible to dust, dirt, moisture, and bending, USB-C offers superior protection and enhanced data capabilities. ModTek enables SuperSpeed connections up to 5Gbps with backward compatibility to USB 2.0 devices, while simultaneously charging the tablet. An optional USB-C hub adds versatility, allowing you to connect external accessories to the ModTek Hard Case.
Increase Efficiency with the ModTek Dock
Versatility is at the heart of the ModTek Dock. It supports both direct power, and power via a data hub that attaches directly to the USB-C port on the back of the dock. Depending on your data needs, optional hubs or splitters can be connected to this port for external device connections, such as scanners, payment terminals, dashcams, PTT, digital video, external cameras, printers and more increasing efficiency and productivity in the workplace.
Robust USB-C Connector
The USB-C connector in the ModTek Dock supports all 24 USB-C contacts and 16 electrical paths for data and power. It adheres to the USB-C 3.1 standard, which includes Power Delivery 2.0 (PD) for efficient power distribution up to 100W — an industry standard for laptops, tablets, cell phones and more. USB-C connectors are built to last, with minimum durability standards of 10,000 insertions/extractions, and the ModTek Dock and Hard Case are rated for 20,000 insertions/extractions, well above industry standards. The only reason we stopped was because our hands got tired.
Easy to Mount in Any Industry
The ModTek System is built for any workplace. AMPS and VESA75 counter-sunk hole patterns on the Dock allow for easy mounting on existing arms and mounts. We offer a wide variety of mounting options to ensure your ModTek system is mounted exactly where you need it, from fleets of trucks to warehouses, retail and more. An optional key lock module adds an extra layer of physical security to prevent tablets from disappearing off the job site.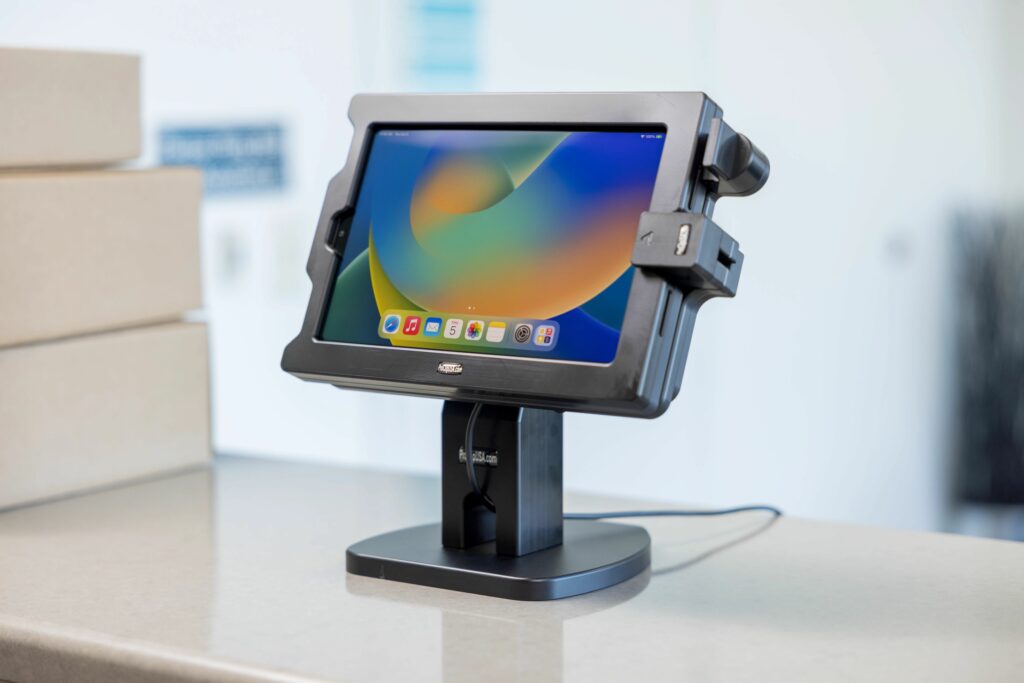 Rigorously Tested for Unwavering Performance
To ensure top-tier performance under demanding conditions, the ModTek Hard Case and Dock have undergone rigorous independent 3rd-party military-standard testing. This includes thermal shock, forklift vibration (16Gmrs), USB-C insertion (20K), and 6 ft drop to concrete tests. These tests guarantee that your tablet remains protected and fully functional even in the harshest environments.
The Future of Tablet Protection and Usability
The ModTek Hard Case and Dock represent a leap forward in tablet protection and usability, embracing USB-C technology to provide users with unmatched flexibility and durability. ProClip continues to lead the way in innovative device solutions, and the ModTek Hard Case and Dock are no exception.
For more information about the ModTek System and to explore our complete line of mounting solutions, please visit proclipusa.com/modtek.