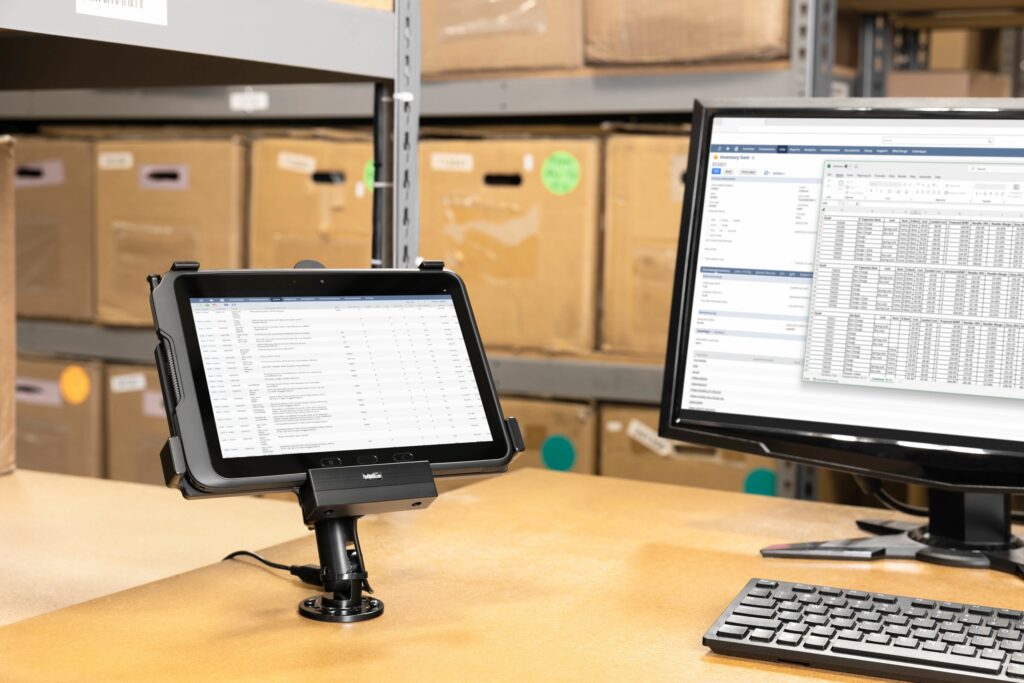 The Samsung Galaxy Tab Active 4 Pro is a rugged tablet designed for use in demanding business environments. It is built to withstand the harshest conditions, featuring a rugged design with IP68 water and dust resistance, as well as MIL-STD-810H certification for durability against drops, shocks and extreme temperatures.
The tablet runs on the Android operating system and features an 8-inch display, an octa-core processor and up to 4GB of RAM and 64GB of storage. It also has a user-replaceable battery, allowing users to easily replace the battery on the go, reducing downtime. Other features include a rear-facing camera, a front-facing camera, Wi-Fi, Bluetooth and LTE connectivity.
The Galaxy Tab Active 4 Pro is commonly used in industries such as construction, field services and logistics for tasks such as data collection, asset tracking and mobile point-of-sale.
A high-quality mount for the Samsung Galaxy Tab Active 4 Pro is important for several reasons:
1. Safety
A mount securely holds the tablet in place, reducing the risk of the device being dropped or damaged.
2. Ergonomics
A mount allows the tablet to be positioned in a way that is comfortable for the user, reducing strain on the neck, shoulders and eyes.
3. Productivity
A mount allows the user to easily access and interact with the tablet, increasing efficiency and reducing the time required to complete tasks.
4. Durability
A mount can protect the tablet from additional impact and vibration, extending the life of the device.
5. Compliance
Many industries have specific regulations related to device mounting in vehicles, which a quality mount can help comply with.
6. Security
A mount allows you to keep the tablet safe and secure, reducing the risk of theft and/or loss.
Overall, a high-quality mount can improve the functionality, safety and longevity of the Galaxy Tab Active 4 Pro, making it a valuable investment for any business that uses these devices.
ProClip Cradles for Samsung Galaxy Tab Active4 Pro
ProClip mounts for the Samsung Galaxy Tab Active4 Pro are designed to provide a secure and versatile solution for mounting the tablet in demanding environments. These mounts are designed to fit the tablet with the original skin and offer several convenient features, including Pogo pin charging, hard-wired and CLA power options and an optional USB-A host data connection with cable retention.
For extra security, these mounts also feature key lock and spring lock options. With easy one-handed docking and removal, tilt-swivel capabilities and heavy-duty materials to protect the tablet and increase longevity, ProClip mounts are a reliable and efficient solution for large fleets. Fast delivery of 2-4 weeks is available for large fleet orders, ensuring that you can get the mounts you need as soon as possible.