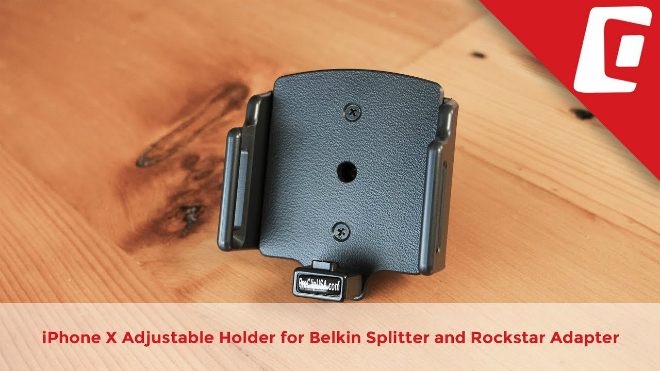 It's been 3 months since the release of the iPhone X, marking the 10th anniversary of the original iPhone. Apple has stepped up their game and missed no details with the this phone's features. From the edge to edge display and OLED screen, to the Face ID unlocking system, the iPhone X has it all. While they eliminated the Home Button, iOS 11 software and a variety of touch gestures now take its place. To keep your iPhone safe and fully charged when you're driving, use ProClip car phone holders.
ProClip iPhone X Adjustable Belkin Cable Attachment Holder
Priding ourselves on high-quality products made from ABS plastic, ProClip provides a two-part mounting solution that will last. ProClip consists of a mounting base, custom to your vehicle's make, model, and year, as well as a holder made to fit each type of mobile device.
ProClip's adjustable holder fits the iPhone X with a small to medium case. The iPhone holder (no. 715013) features a place to insert a Belkin Audio + Charge RockStar Adapter, the Apple Lightning to 30-Pin Adapter, or the Apple Digital AV Adapter so that your iPhone X stays charged during your drive. With easy view access, this phone holder angles 15 degrees and allows you to rotate your display between portrait and landscape view. Each of our phone holders are created to match your vehicles interior, providing a clean and polished look!
Install Video: iPhone X Adjustable Belkin Cable Attachment Holder (no. 715013)
Watch the video below to learn more about this iPhone X holder and how to install it in your vehicle.
ProClip Custom Dashboard Mounts
Once you decide this is the right holder for your iPhone X, you'll want to choose the right dashboard car mount for your vehicle. ProClip's car mounts are custom made to your vehicles make, model, and year. Plus, you can install your car phone mount in under 3 minutes with no damage to your dash!