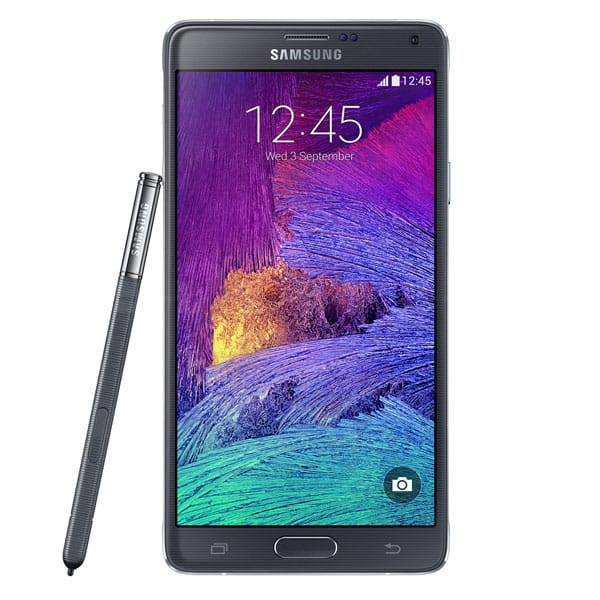 Phablet's are all the rage as of late, with even Apple jumping into the game this year with the release of the iPhone 6 Plus. Not to be outdone, Samsung added the Galaxy Note 4 to its lineage of top-selling mobile devices. Reviews of the Galaxy Note 4 have been coming in steadily. For Samsung, the news is good and have positioned the new flagship phablet as a top runner in the mobile industry.
Samsung Galaxy Note 4 Features and Specs
In the phablet world, size matters, and the Samsung Galaxy Note 4 comes in on top of its competitors at 6.04 x 3.09 x 0.33 inches. Its overall design is study and practical. Notably, the Note 4 offers a screen resolution of 1440 x 2560 (550 ppi). A 16 MP camera (3.7 MP front-facing camera), heart rate sensor, side-by-side, split-screen multitasking capabilities and 3 GB of RAM are features you are sure to find compelling in Samsung's newest flagship phablet. The Galaxy Note 4 is currently running on the Android Kit Kat OS. However, updates to the new Android 5.0 Lollipop OS is expected to be released in early 2015. For a more in depth look at how the Samsung Galaxy Note 4 compares to its predecessors, as well as the iPhone 6 Plus, please read our recent blog post.
Note 4 Car Mount Holders
We are offering three car mount holder options for the Samsung Galaxy Note 4:
Holder with tilt swivel
Charging holder with tilt swivel and USB cigarette lighter plug
Charging holder with tilt swivel and straight power cord for fixed installation
If you're looking to mount your Samsung phablet, check out all of these Galaxy Note 4 Holders on our website.