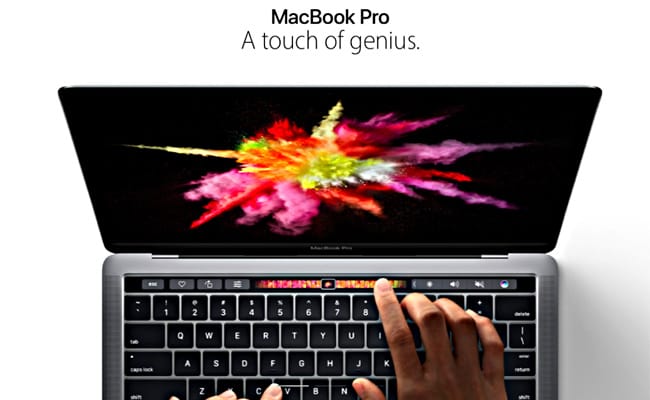 Thursday, October 27, Apple announced the latest flagship laptop, the reinvented MacBook Pro with Touch Bar and Touch ID. In a comparatively short keynote in the small Cupertino campus auditorium, the "hello again" paid homage to the preceding versions of Apple's laptop line. Apple spelled out a future of dongles and expensive accessories, just to ensure your newest laptop works with existing technology. However, Apple is always known for pushing technology forward, like the recent decision to drop the headphone jack from iPhone devices. The new software-powered Touch Bar will be MacBook Pro's input option of the future.
The New MacBook Pro and Touch Bar
Arguably, redesigned from the screws to the screen, the all new MacBook Pro starts with a wider color gamut display, which is 67 percent brighter. In total, the graphics processing occurs 130 percent faster. New ports offer faster connectivity with USB C / Thunderbolt 3. Importantly, everything is built into a chassis that is 17 percent thinner. Take a look at Apple's announcement video below.
The big story here is really the Touch Bar, which also integrates Touch ID. Touch Bar, as predicted earlier, replaces the hardware function keys. According to the Apple Keynote, the function keys have been around for nearly five decades, but have not really proven useful, even recently. Function keys are limited, in that they are hardwired for only specific options. Certainly, software could take advantage of the keys by assigned roles, but the physical key remains unchanged… just F1, F2, F3, etc.
With Touch Bar, the OLED screen will dynamically change the displayed content and map it for functionality of the assigned app. Touch Bar is also multi-touch and responds to pressure. With a full color display, the Touch Bar also displays pictures, images, and shortcuts very vividly. Below is a walkthrough of the new hardware.
One of the most compelling features for daily users could be the caller ID features. Since Apple introduced Continuity, a feature that allows seamless transition from iOS to macOS, users can answer calls from iPhone, directly on their desktops. However, the call would be placed into the screen corner and require some extra clicking to answer. With Touch Bar, the contact information, even caller picture, and answer buttons appear directly on the keyboard.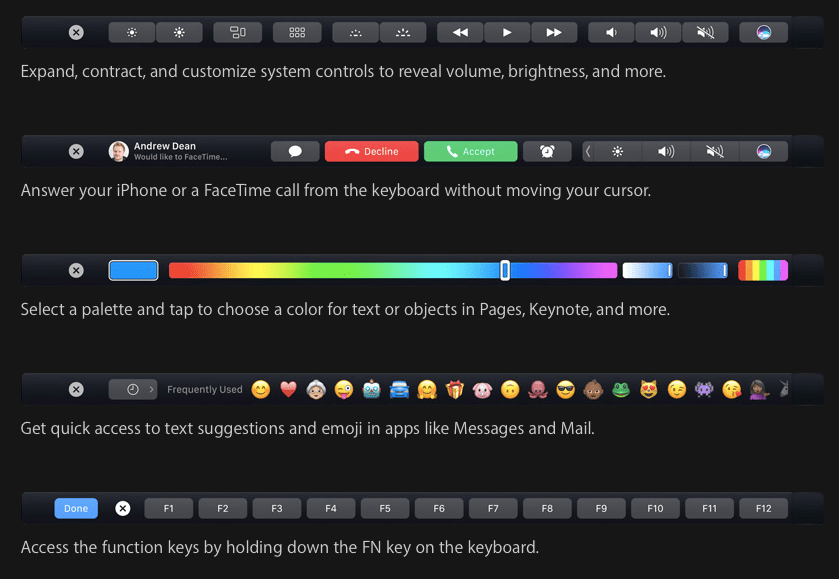 Moreover, the inclusion of Touch ID is a marked improvement. Naturally, for security reasons, the biometric scan is much more secure than a simple or even long password. Touch ID, like iPhone, allows the user to log into the MacBook Pro, without entering any passwords through alphanumeric means. Instead, just place a finger on the Touch ID sensor and the computer is unlocked. To switch between two user profiles, simply placing the other user fingerprint, switches the desktop to the other profile. Like iPhone, Touch ID also authenticates Apple Pay payment methods, which can now be accomplished through Safari. No more manually punching-in your credit card numbers.
MacBook Pro comes in three variations, all available for order today, via Apple's online store:
15″ MacBook Pro with Touch Bar, starting at $1,499
13″ MacBook Pro with Touch Bar, starting at $1,799
13″ MacBook Pro without Touch Bar, starting at $1,999