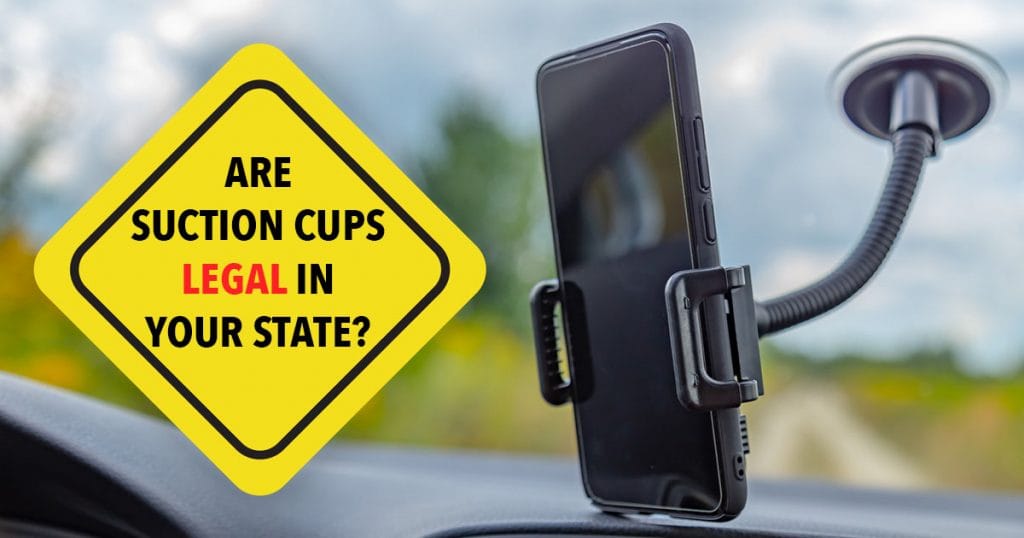 Do you use suction cup windshield mounts to support your GPS or smartphone while driving? Did you know these mounts are illegal in many states? In fact, they are illegal in almost 70% of the United States!
Surprised? That may be because these laws aren't always highly enforced, however, we can't ignore them. Distracted driving is a top cause of automobile accidents. ProClip wants you to put safety first and keep both hands on the wheel. Read on to find a safe, legal mounting solution for the state(s) in which you drive.
States in Which Suction Cup Windshield Mounts Are Illegal
Alabama
Colorado
Connecticut
Delaware
Georgia
Idaho
Illinois
Louisiana
Maine
Montana
Nebraska

New Jersey
New Mexico
New York
North Dakota
Oklahoma
Oregon
Virginia
Washington
Washington, D.C.
West Virginia
States with Laws that Restrict Windshield Mounting Location
There are a handful of states in which suction cup windshield mounts are legal, but the law states specific requirements on where the GPS unit or smartphone can be mounted on the windshield.
Restrictions on Type of Device
Other states restrict the type of device that is allowed to be mounted onto the windshield. Typically, GPS devices or other devices that display pertinent information to the driver are allowed, but they still cannot obstruct the driver's view of the roadway.
Florida
Michigan
Minnesota
New Hampshire
North Carolina
Placement on the Windshield
In the states below, GPS systems, toll payment systems and other safety monitoring equipment are permitted only when mounted as close to the bottom of the windshield as possible. Certain qualifications of these devices differ from state to state, so please check to see what your state allows.
Arizona
Arkansas
California
Hawaii
Indiana
Maryland
Minnesota
Utah
Vermont
Wyoming
States In Which Suction Cup Windshield Mounts Are Legal
This leaves only a handful of states in which windshield suction cup mounts are legal, as long as the device does not obstruct the operator's direct line of sight:
Alaska
Iowa
Kansas
Kentucky
Massachusetts
Mississippi
Missouri
Nevada
Ohio
Pennsylvania
Rhode Island
South Carolina
South Dakota
Tennessee
Texas
Wisconsin
ProClip Suction Cup Mounting Solution
Our suction cup mount can easily be attached to your windshield, but the mount also comes with a 3M adhesive disk so you can attach the suction cup to your dashboard or console (shown below).
If Not the Windshield, Where Can You Mount Your Device?
Dashboard and Console Mounting Solutions
An alternative to mounting on your windshield is to use a dashboard phone mount or console mount for your phone or GPS. However, make sure to check the laws in your state on any specific rules that may prohibit you from mounting devices in other locations.
ProClip mounts are vehicle and device specific. We design each dashboard mount to fit seamlessly into the grooves of your dashboard, so there is no need to worry about damaging your vehicle. Not only are our mounts a great legal option, they are also the safe option. Having your phone or GPS securely mounted within reach will keep you less distracted while driving. Not convinced? Just ask our customers! 86% of our customers say they are a safer driver since installing their ProClip mounting solution.
We also offer adapter plates which allow you to attach your own GPS holder to one of our vehicle-specific dashboard or console mounts. Adapter plates are an easy way to transform the suction cup mount into a legal mounting option for the states that do not allow windshield mounts.
Be an informed driver. Do you know if your state bans cell phones or texting while driving? Check out our blog on cell phone driving laws by state. Keep informed by following our driver safety topics and tips.
Editor's Note: This post was originally published in June of 2013. The original information was based on a report by POI factory and was revamped in October of 2015. This content has been updated again for accuracy in February of 2018.