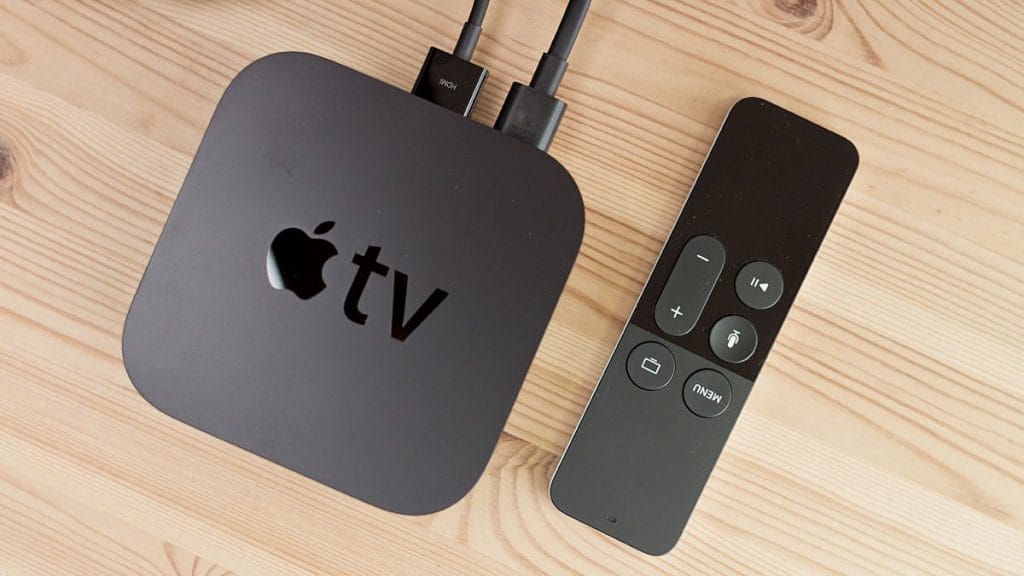 Over the weekend, the same Apple code that revealed the final design for iPhone 8 and facial detection has also unintentionally leaked hardware details of the forthcoming Apple TV. The code, found by Guilherme Rambo, definitively confirms Apple TV will be capable of 4K, also known as Ultra HD, and High Dynamic Range (HDR) color gamut.

4K HDR Apple TV

The Home Pod firmware continues to be a resource for code diggers looking for hidden secrets about upcoming Apple hardware. Now, in addition to the iPhone 8 details, Apple TV information spill into the mainstream. Leaks of this nature, from Apple itself, are completely unprecedented. Stacking upon the massive iPhone 8 design and facial detection leak, Apple also revealed the 4K HDR ability of its upcoming device. Not only does the code confirm the hardware features of the new device, but also that a new Apple TV is going to be released.
The current generation Apple TV, pictured below, is not capable of 4K video output. Ultra high definition and HDR signals require a specific HDMI port, which the current version lacks. That will require at least an HDMI 2.0 cable to transfer the signals. Also, the TV will need to be an updated 4K TV with HDR technology built in. Finally, as Apple TV is mostly a streaming box without natively stored video content, a high speed internet connection of at least, consistently, 20mbps down will be the final piece of the puzzle. Therefore, it is likely the current 10/100 ethernet port will be upgraded to 10/100/1,000 gigabit speed capabilities.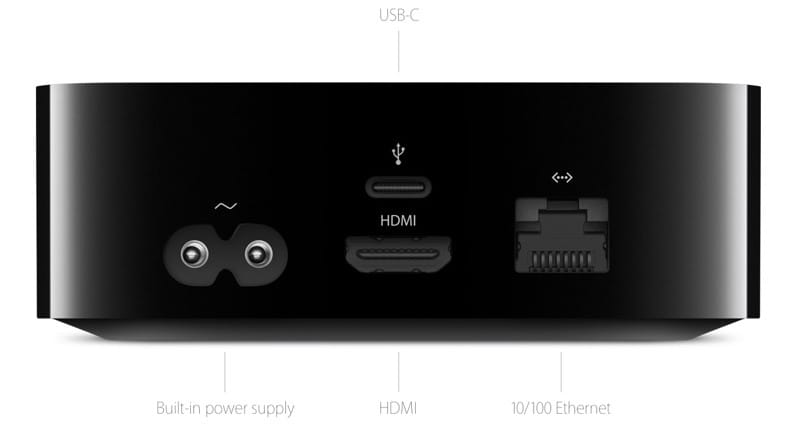 Making things a little complicated is the variation in general HDR technology. Like most new formats, HDR is still making its place in the market. Vis-à-vis VHS and Betamax, for those that remember the battle, HDR has two current formats, Dolby Vision and HDR10. Consequently, the 4K HDR TV needs to support HDR with one or both of these versions and the video source must as well. The HDR type from the video source must match the TV capability. In summary: Not all video sources provide both HDR versions and not all TV's can receive both HDR versions. Where does that leave Apple TV?
Apple TV – Dolby Vision and HDR10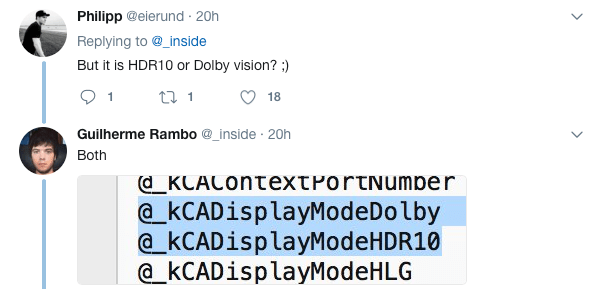 Good news! Guilherme was also able to uncover the answer to quite a big concern. With the source code pictured above, it appears Apple TV will 'do the right thing,' and provide output for both formats: Dolby Vision and HDR10. Therefore, it will support HDR content for any HDR-enabled TV, preventing any possible compatibility issues, if your HDR TV only supports one variable.

This finding, however, is actually not necessarily new news. A couple weeks back, some iTunes customers noticed their purchased receipts for video content, included 4K and HDR versions of previous purchases. The image above via 9to5mac, shows one such receipt. Consequently, the finding of the hardware code serves to confirm the suspicion from an earlier leak.
An updated Apple TV was expected this fall, which may or may not be part of the upcoming iPhone 8 media event. Fall announcements are an Apple staple, but the exact month when these devices will be revealed, is uncertain. With 4K TVs becoming quite ubiquitous and relatively inexpensive, compared to even one year ago, a 4K HDR enabled Apple TV is a welcomed upgrade.