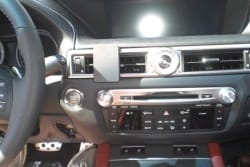 We're bound to make some proud Lexus drivers happy today. We now have a mount available for your 2012 Lexus, which works in both the GS 350 AND GS 450h models. Double whammy!
Why Our Car Phone Mounts are Worth the Investment
If you've been reading our posts lately, you'll notice this mount features much of the same benefits as all of our other mounts. It's quick and easy to install, requires no special tools or installation fees, and your dashboard won't be damaged in the process. All of our mounts are machined and hand tooled in Sweden from high grade ABS plastic. No cheap plastic molds here! Now that's what you call high quality. Plus, our vehicle mounts provide the perfect mounting platform for any one of our mobile device holders and will give you a mounting solution that is much more secure than any windshield suction cup mount.
Extra Feature Unique to This Phone Mount
The location for the 2012 Lexus GS 350 and 450h is a center mount. It clips into the dashboard in an area within easy reach of both the driver and passenger seats. Something pretty great about this mount is that it can be attached over either center air vent. You can choose to have it closer to you while you're driving, or place it closer to your co-pilot passenger sitting next to you. Versatility- another double whammy!
Get the Customized Device Holder to Complete the Package
Don't forget to add your phone, GPS, tablet or other device mount to the mix. Remember, we offer a two-part solution: one piece specifically designed for your vehicle make, model and year, and one piece custom designed to fit your device brand and model.
Not sure what kind of device holder you need? We can help you determine your phone model.
We know we've been reminding our readers a lot lately, but it's an important step to take to make sure when that package arrives from us, you open it up to find exactly what you expected. If you need help shopping for your mount, read our guide: ProClip USA Device & Mount Shopping 101.
View all Lexus mounts on our website.
Connect With Us to Stay in the Loop
Do you not drive a Lexus? Maybe you do, but you're waiting on a mount for your new phone. Connect with us to make sure you don't miss the announcement of whatever mount you're dying to get your hands on! Follow us on Twitter, Like us on Facebook or subscribe to our blog to make sure you're one of the first to know. If you want to check to see if we already have a mount for your vehicle or device, check out our website.