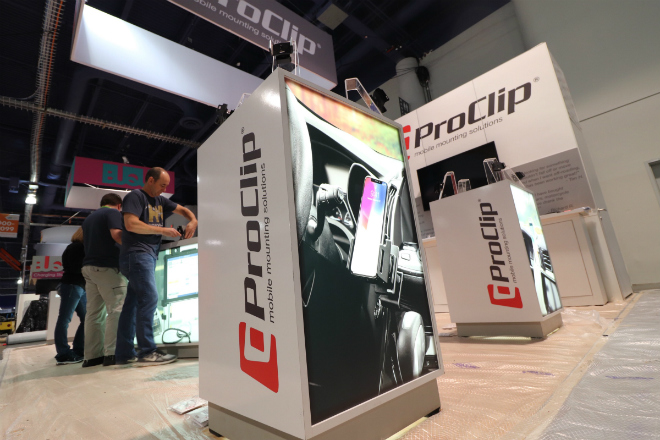 Welcome to the ProClip Booth #32016 – where the magic happens at CES 2018! Check out the virtual booth tour or stop by and say hello. We have a new location: South Hall, Tech East (LVCC) Las Vegas Convention Center – Second Floor. Will you be attending #CES2018? The first day of CES 2018 begins Tuesday, January 9th @10AM PST. Check in via social media and sign the ProClip Wall of Fame!
Booth visitors will have the unique opportunity to test the latest device holder technology. Custom and adjustable holders will be on display for popular smartphones including the iPhone 8, iPhone 8 Plus, iPhone X, Galaxy Note8 and more. Visitors who test their smartphone and take a selfie at the ProClip booth will earn a #proclipusa t-shirt, stickers and promo code for sitewide use on proclipusa.com.
Tuesday January 9th: [10AM PST – 6PM PST] All Access Virtual Booth Pass – Experience CES 2018 Las Vegas Tradeshow Booth #32016
Wednesday January 10th: [9AM PST – 6PM PST] Top Automobiles including self-automation, electric/hybrid and luxury vehicles
Thursday January 11th: [9AM PST – 6PM PST] Top Technology including robotics, virtual reality, drones and top gadgets of 2018
Friday January 12th: [9AM PST – 4PM PST] Top Phone Cases including OtterBox, LifeProof, Incipio, Speck and More
Be alert for LIVE video content and frequently asked booth questions and answers. ProClip Gregg will detail a few FAQ from early 2018 including: Why is ProClip a two-piece phone mounting solution? Differences between custom and adjustable smartphone holders. Custom vehicle mount ease of installation and why is ProClip so expensive? ProClip Gregg and the full team will be available to chat about the latest in device mounting technology.
ProClip will be recruiting product reviewers at CES 2018! A few basic requirements include: Do you have a large social media following? Do you have a popular Instagram page or YouTube Channel? Do you own a popular vehicle? Do you write for a popular blog? If you meet any of these criteria please pick-up a recruitment flyer at CES 2018, chat with a marketing rep or email us for more information!