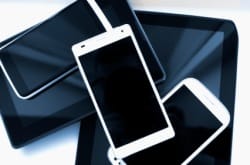 Do You Know How to Choose Your Phone Mount?
Are you planning to buy a mount for your phone or other device? Maybe a nice holder for your new Samsung Galaxy S III? If you're having trouble deciding where to start, read on! We're here to help.
As you may know, our products are part of a two-part solution that is designed specifically for your exact vehicle and device model. That means you get a perfect fit every time. In order to buy your mount, you need to know what kind of phone you have.
Determining Your Phone or Tablet Brand and Model
You probably know if you have an iPhone or a Samsung, but do you know the exact model? When new models are released, they should be better than the last (that's what we hope, anyway). With all the new and exciting features that come with an updated model, also come slight changes in dimensions that affect the fit of your phone mount.
For example, the Samsung Galaxy Tab 10.1 is 10.1 inches, whereas the Samsung Galaxy Tab 7.0 is seven inches. The Samsung Galaxy Tab 2 10.1 is also, you guessed it, 10.1 inches; however, it is 1 mm thicker than the Galaxy Tab 10.1. Confusing, right? Since your ProClip USA mount is custom fit to your device, these little changes can make a difference.
If you need to determine what model phone you have, you might be able to find the answer by taking off the back cover and looking under your battery. If it's not listed there, try going to the settings menu. You should have an "about" section that lists your device model.
You're Halfway There – Remember It's Two Parts!
You're on your way to a custom solution you're sure to love. But remember, you're only halfway there. Don't forget to choose your vehicle mount so you have somewhere to attach the phone or tablet mount you just picked.
We hope this information helps. If you're still a bit unsure, don't hesitate to contact us. Don't worry, we don't bite. You can also connect with us on Facebook or subscribe to our blog to receive more awesome mount how-to's and shopping tips.