Do You Know How to Buy Your Vehicle Mount?
If you're looking for a great way to mount your phone or other device in your vehicle, we can help. All of our devices are custom fit to your exact vehicle and your exact device. This means you get the best of the best: in fit, look, and security. However, in order to start the shopping process, you need to know the exact make, model and year of your vehicle.
Determine Your Vehicle Make, Model and Year
The best place to find this information is in your vehicle manual, which is likely in your glove box. If you don't know where your manual is hiding, you can look for your vehicle identification number (VIN) that is stamped near your driver's side dashboard and also listed on your vehicle registration certificate. This diagram shows you where to find your VIN.
After you find the VIN for your vehicle, use this VIN decoder chart to translate it into your vehicle make (or manufacturer), model and year.
Find the Right Device Holder to Pair With It
If you need some help determining the brand and model of your phone, tablet or other device mount, we can help you with that too. Check out our article: How to Know What Model Phone You Have.
Time to Shop!
Once you have this information, you're ready for the best part: shopping! Our website will take you through step-by-step drop down menus to find all the options that are available for your specific vehicle and your exact device.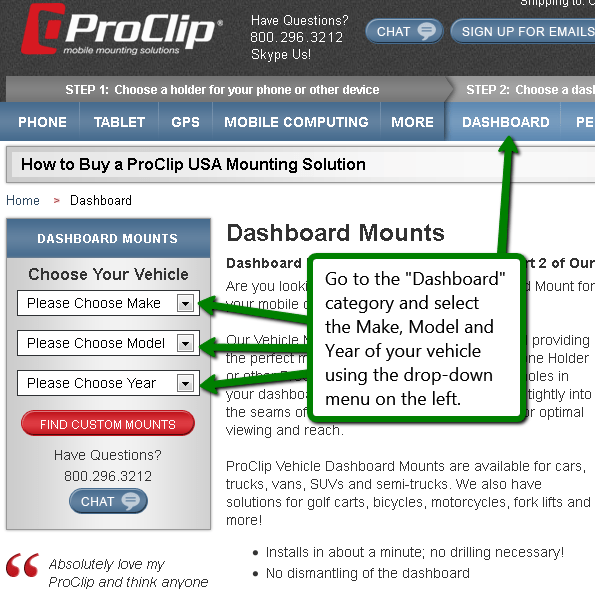 For most vehicles, we have more than one mount so that you can choose the ideal location in your car where you would like your mount to sit. We also have multiple holder options available for most devices, including charging or non-charging, cigarette lighter adapter or straight power cord, and tilt swivel styles.
Still Not Quite Sure?
Don't worry. We can help. Contact us if you need someone to help you choose the right mounting solution for you.