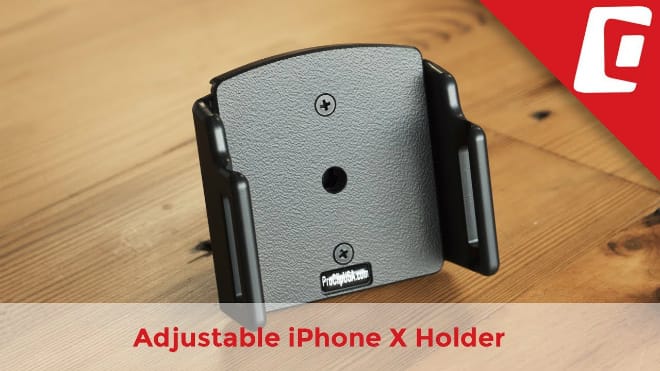 The iPhone X is here, marking 10 years since the release of the original iPhone. This phone looks sleeker than ever, showcasing a 5.8″ display that is all screen. Since the iPhone X does not have a Home Button, it relies on the iOS 11 software and different touch gestures to replace its functions. This software enables Face ID, unlocking the iPhone. It's no surprise the iPhone X is the most advanced handset Apple has created thus far. To keep this high-tech phone safe while driving, use ProClip car phone holders.
iPhone X Adjustable Phone Holder (Non-Charging)
ProClip provides high-quality products that are made to last. Made of high-grade ABS plastic, our phone holders and mounts will keep your device safe while on the road. The ProClip mounting solution consists of two-parts, the mounting base and the device holder. The mounting base is custom fit to a vehicle's make, model and year, and the holder is made specifically to each mobile device.
ProClip's adjustable car phone holders are made to fit your device with a case. Adjustable iPhone holder (no. 711013) is designed to hold the iPhone with a small to medium case, such as the Apple Leather Case or the OtterBox Symmetry. This holder includes tilt-swivel, allowing you to rotate your new iPhone between portrait and landscape view.
Install Video: iPhone X Adjustable Holder (no. 711013)
Watch the video below for a tutorial on how to install the iPhone X adjustable phone holder.
Custom Dashboard Mounts
After finding the right holder for your new iPhone, the next step is to look for the right dashboard car mount for your vehicle. ProClip's car mounts fit the exact dimensions of your vehicle's dash, so there won't be any damage made to your vehicle. Plus, you can install your car phone mount in under 3 minutes!