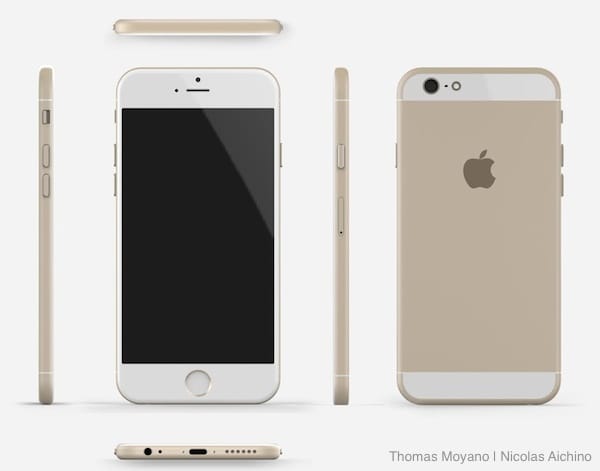 There are many new, recent rumors swirling about the upcoming iPhone 6. Some of them are believable, however, some of them are a little more unique and far fetched. Several rumors are just considered givens, for example a 4.7″ and 5.5″ variation, rounder flatter design, and a mid-September launch.
Another rumor has been churning, yet slowly, about iPhone 6 including haptic display feedback technology. This is not the first time haptic feedback has made the rounds. When the iPhone 5 and iPads released, several groups pointed to this technology.
Haptic feedback can come in the simple form of a vibration when keys, even virtual keys, are pressed on the screen. Many Android devices utilize this feedback. Citing inside sources, a report from Chinese mobile site Laoyaoba claims a linear motor will be included in the iPhone 6. The motor will provide a vibration, yet subtle, based on differing app scenarios or touched screen locations. MacRumors notes, Apple filed for a similar patent in 2009, which discussed users "feel[ing] out" items on a web page, app, or UI elements.
Most interestingly, Senseg, a touch based company, has seemingly perfected true touch feedback. Standard haptic feedback, the simple kind, just offers the vibration feedback as noted above. True touch feedback should feel a certain way, based on the items users are touching; at least, that is what Senseg will have you believe.
Senseg's touch technology provides Tixel (TM) coated touch screen with API libraries for Android, iOS, Linus, and Windows. The additional hardware creates "a sophisticated sensation of touch using Coloumb's force, the principle of attraction between electrical charges." Tixel creates an electronically attractive pairing between the top device layer and the oppositely charged user dermis. Manipulating the way these electrons interact, Senseg technology can produce the sensation of multiple surfaces.
In related news, the release date, once thought to be confirmed for mid-September, is wavering. Popular Apple analyst Ming-Chi Kuo was cited talking about production issues surrounding the iPhone 6 5.5″ model. In-cell touch panel technology, which has been included in the past two iPhone units, is apparently causing issues for the larger 5.5″ screen size. The concern comes from alleged color unevenness, according to Kuo. In his opinion, this could push the 5.5″ launch back to 2015.
While Kuo is frequently accurate when it comes to Apple's supply chain issues and launches, his timing has proved to be "off" in the past. Kuo's information typically seems to be accurate, but the 2015 delay may need to be taken with a grain of salt.
As it sits, every time Apple is rumored to launch a new device, the blogosphere is full of articles outlining how Apple will never hit the launch date. When getting lost in the online turmoil that occurs up to and during an Apple device launch, it is important to realize, no one knows anything until Tim Cook steps on stage at the event. Currently, there is neither a date for an iPhone 6 launch, nor an invitation sent to media for attendance.
It is not unprecedented for Apple to launch two new devices simultaneously, for example the iPhone 5s and 5c. Arguably, it would be shocking for Apple to delay the launch of an iPhone to early 2015. Two different iPhone launches have never been held in the same year. Delaying the iPhone 5.5″ to Q1 or Q2 in 2015, would make an interesting approach for the "iPhone 6s" later in the year.