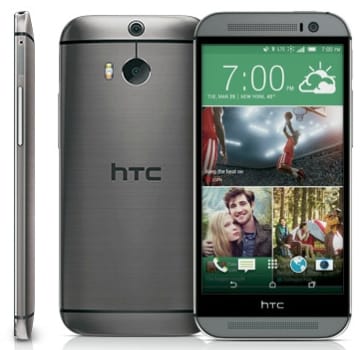 HTC revealed their newest flagship phone yesterday with the HTC One M8, the successor of their previous HTC One smartphone.
HTC One M8 Specs
The One M8 is very similar to the previous model (now being called the One M7). The 1080 x 1920 pixel screen is slightly larger, up to 5-inches from the previous 4.7-inches. That brings the total size of the phone a bit larger, at 5.76 x 2.78 x 0.37 inches and 5.64 ounces. The new One maintains the same quality and style, with the back consisting of 90% metal.
The M8 features a 2.3Ghz quad-core Snapdragon 801 processor and 2 GB RAM. It has 16 or 32 GB of internal memory and a microSD card for up to 128 GB of expandable storage, which was missing on the M7. There is a 5MP camera on the front and two cameras on the back – a 4MP main camera and a second camera sensor to collect information for post-capture editing.
HTC One M8 Availability
The Google Play version of the HTC One M8, which runs Google's version of the Android interface, is now for sale on the Google Play store in the U.S. for $699. This is an unlocked version of the phone and is currently expected to ship 2-3 weeks after purchase.
U.S. carriers AT&T, Verizon and Sprint are now taking orders, all offering the phone for $199 with contract. T-Mobile will offer the HTC One M8 when it hits stores on April 11, which will be about the same time as the Galaxy S5.
You can expect ProClip HTC One M8 phone holders to be available about 4-6 weeks after the phone hits stores.