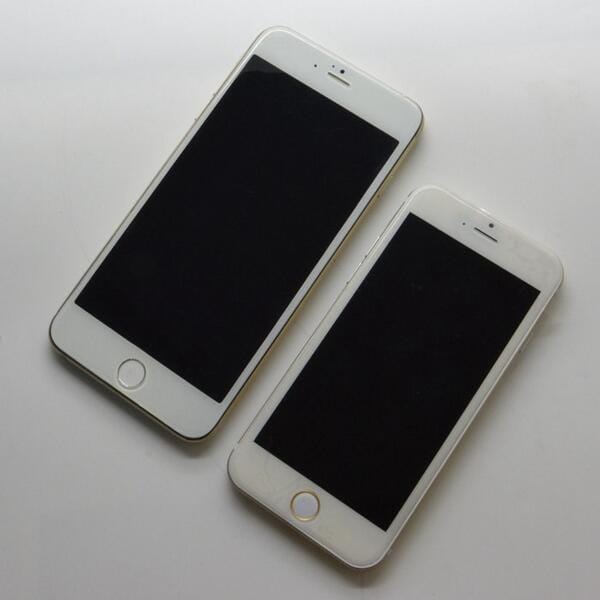 As smoke continues to rise around iPhone 6 rumors, there are no shortages of parts and mocks. The above image was released by @SonyDickson, who is known for access to early parts and supply chain links. In his tweet, Sony makes no argument the devices are real, but seem very convincing. Key items indicate, however, the devices are fakes.
Most notably, the ear piece speaker, FaceTime camera and proximity sensor appear misplaced. As with previous iPhone models, those items are evenly spaced between the screen and top frame, but these seem un-centered. Unless the proximity sensor, located to the ear piece left, is significantly smaller than current models, it also appears 'off.' An additional indicator exists to the left of the 5.5″ FaceTime camera, in the form of a small black circle. Of course, there is no proof either way, until Apple reveals the device sometime this fall.
Shockingly, however, some of these items appear to be corroborated through mocks in other areas of the internet. As can be seen in the video below, the small intricacies that may cause one to deny the mock up designs, appear to be consistent across the black market for these time of items.
Additional features may include the ability to measure atmospheric pressure, according to source code found in the developer's release of iOS 8 beta. Similar sensors have been able to determine weather and/or altitude changes. This could be a key feature to outdoor enthusiasts when it comes to tracking climbs. The source code is revealed below.

When it comes to an iPhone 6 release date, early speculations peg a date range in September based on vacation black out dates for some Apple retail store employees, at least in Europe. These early rumors, however, only included speculation for the 4.7″ model. There were a couple reasons for this rumor, both a battery constraint issue and the inability to produce enough Sapphire crystal for the alleged iWatch, iPhone 4.7″, and iPhone 5.5″. Recent reports indicate both the battery and crystal issues have been solved, allowing for an acceptable power usage time and to produce Sapphire amounts inline with expectations.
Several discussions are expecting a premium price for the iPhone 6 5.5″ model when it does release. Arguments are made, the 4.7″ model will be released at the standard subsidized price of $199, while the extra .8″ will draw a sizable $100 additional price tag at $299. It is easy to assume the iPhone 5s will be dropped to the $99 price spot, followed by iPhone 6 4.7″ at $199, iPhone 6 5.5″ at $299, then iPad mini at $399, and iPad Air at $499. The lineup offers a device of every size for consumers and an easy to understand pricing structure. The remaining question? Will Apple boost their entry level devices to 32GB from 16GB this fall?
[source: MacRumors]