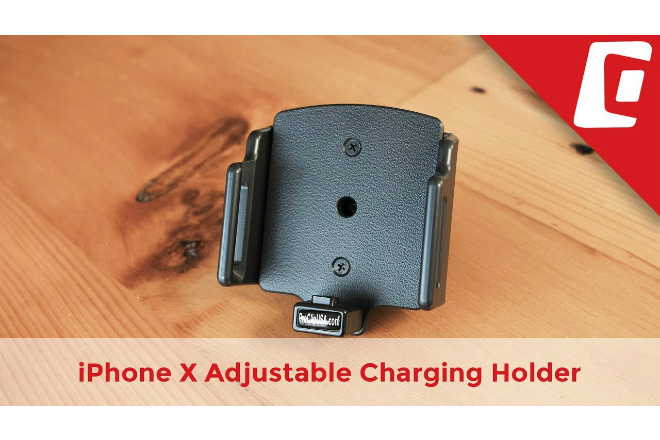 The iPhone X has been out for over a month, and is still living up to its hype! The iPhone X marks 10 years since the release of the original iPhone, and Apple went all out with this phone's features. First, the iPhone X has a display that is edge to edge, top to bottom, with a 5.8″ measurement across corner to corner. Since this iPhone is all screen, it lacks a Home Button. However, this introduces sensors that enable Face ID. This phone relies on its iOS 11 software and different touch gestures to replace what the Home Button did. After listing all of this, it's no surprise this iPhone is the most advanced handset Apple has created. To keep this iPhone safe and fully charged while in the car, use ProClip car phone holders.
iPhone X Adjustable Charging Phone Holder
ProClip is known for high-quality products that can stand the test of time. Our car phone holders are made of high-grade ABS plastic, so they will keep your new iPhone X safe and secure no matter where the drive takes you. To get started, the ProClip mounting solution consists of two-parts, the mounting base and the device holder. The mounting base is custom fit to a vehicle's make, model and year, and the holder is made specifically to each mobile device.
ProClip's adjustable charging holder is made to fit your device with a case. The sides of iPhone holder #714013 adjust for different size cases, such as the Apple Leather Case. This holder only works with the original Apple Lightning Cable that came with the purchase of your new iPhone. Simply insert the Lightning Cable into the bottom of the holder until you hear a click. This phone holder not only charges your iPhone, but also rotates it. This holder includes tilt-swivel, allowing you to change your iPhone between portrait and landscape view, which is great when using navigational apps!
Install Video: iPhone X Adjustable Charging Holder (no. 714013)
Watch the video below to learn how to install the iPhone X adjustable charging phone holder.
ProClip Custom Dashboard Mounts
Once you pick out the right holder for your iPhone, you'll want to pick out the right dashboard car mount for your vehicle. ProClip's car mounts are custom made to your vehicle, so no damage will be made to your dash. Plus, you can install your car phone mount in under 3 minutes!