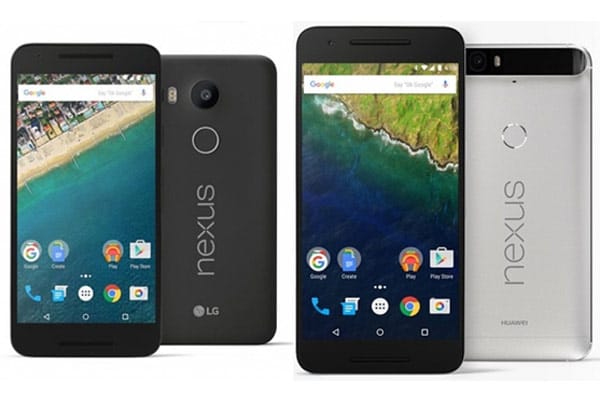 The Google Nexus 6P has proven itself as a great contender for one of the best smartphones in 2015. In a bit of a surprising move, Google partnered with Huawei to create this flagship smartphone. This phablet has quite a few improvements from the previous version, the Nexus 6, and offers some features its competitors don't have. While it doesn't have every feature that would make it a clear-cut winner, the price point for this new smartphone will make you forget the small differences.
The Nexus 6P comes in a more manageable size than its predecessor, with a 5.7-inch AMOLED screen that has a bright, clean and crisp display (2,560 x 1,4440 pixels and 518 ppi resolution). Breaking from other Android phones, the Nexus 6P has placed the stereo speakers on the top and bottom of the front of the phone, which will make listening to music and streaming videos an absolute delight. This new phone comes with Android 6.0 Marshmallow, the latest Android OS, which means it comes with great software features such as the Doze Mode, App Standby and Google Now on Tap.The battery life has always been a concern with previous Nexus smartphones, but that worry has disappeared with the Nexus 6P. The camera has definitely improved from the Nexus 6, although the primary 12.3 MP camera does not have optical image stabilization, which tech enthusiasts have found odd.
Just like the Nexus 5X, this phone comes with a pretty great fingerprint scanner that works much more efficiently than its competitors. Speaking of competitors, the Nexus 6P gives Apple and Samsung a run for their money in terms of design, featuring an all-metal design with a gorgeous aluminum body. The 6P has found the perfect balance between being too thin and too beefy.
However, there are a few things to consider before purchasing the Nexus 6P. It come with a USB-C charging cable, which is not yet widely used, and it does not come with wireless charging. The fingerprint scanner, although reliable, cannot be used if you need to access your phone while its on a flat surface, such as your desk. And, its Snapdragon 810 v2.1 processor and 3 GB of RAM fall short compared to its competitors.
When it's all said and done, the Google Nexus 6P is one of the best high-end smartphones you can buy, and probably the cheapest. The "P" in its name stands for Premium, and you will most certainly experience that with this smartphone.
Google Nexus 6P Car Phone Holders and Mounts
We have five great options to choose from for car phone holders for the Nexus 6P. Our phone holders are custom made for each device. They are all easy to install and come with a tilt swivel feature that makes it easy to move your phone from portrait to landscape views. Our mounts are made of high-quality ABS plastic and will keep your phone safe and secure while you drive. After you select a phone holder, you can select a custom dashboard mount that is also custom made to fit you vehicle perfectly!