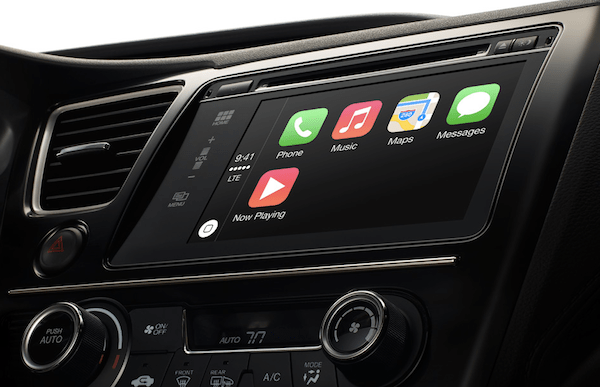 Apple's newest venture will be in the car. Announcing a new mirroring-like in-dashboard system, Apple used the Geneva Motor Show to debut the official CarPlay platform announcement. CarPlay promises to extend the iOS interface through the manufacturers' infotainment systems. Current iPhone users will find both the interface and capability similar to that of their smartphone.
CarPlay will allow users to make calls, send and receive messages, listen to music, and navigate all through an iPhone 5/s/c. The goal is to provide a way to operate the most common iPhone features in a safer and more accessible manner. Ensuring ease of use, Siri will be available for dictation and standard commands including speech-to-text, call placement, and direction navigation with way finding. Just as important, Siri will be able to read unread messages to ensure a completely touch-less correspondence, preventing unnecessary driver distraction.
For the first time, Apple's iOS software will be accessible through hardware not manufactured by its own design team. Providing the most fluid operability meant allowing the OEM in-cabin buttons, dials, and toggles to manipulate the user interface of CarPlay. This means customers familiar with a particular brand vehicle can still utilize standard controls while operating their iPhone. For a closer look, Volvo released a demo video:
Despite receiving criticism at launch, Apple's Maps.app will be integrated through the system. With the ability to show live traffic reports, ETA, and multi-route mapping suggestions, it should prove to be a valuable and welcomed addition to a new market.
Music will be accessible through CarPlay with the same functionality as using the iPhone directly. Artist, album, and song titles are all sorted, including user defined play lists. If locally stored iPhone music is not enough, iTunes Radio is a suggested alternative. Third party streaming services are also enabled, including Beats Music, iHeartRadio, Spotify, Stitcher, and Apple's own Podcasts app.
Apple also announced dedicated 2014 integration with companies including: Ferrari; Honda; Hyundai; Mercedes Benz; and, Volvo. Future integration is promised in more common U.S. manufacturers like Chevrolet and Ford in 2015, or later. Other foreign makers are also in line to release the same system.