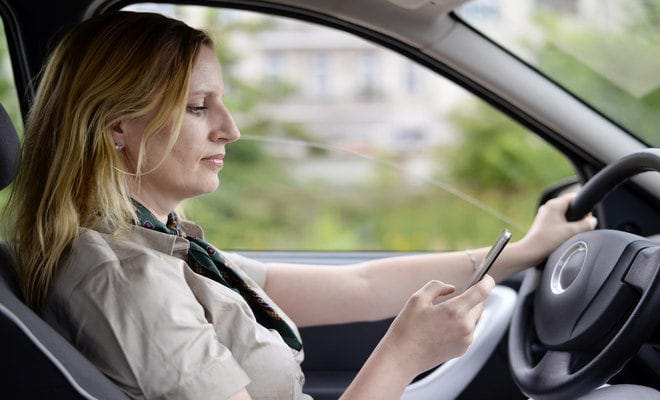 The price of a distracted driving ticket is increasing nationwide. To help solve this big issue on the roads today, states are starting to enforce distracted driving laws. In states like New York, New Jersey and Texas, police are issuing tickets at a higher rate for using a mobile device when driving.
Ranging anywhere from $90-$200, the distracted driving ticket is an effort by law enforcement to remind motorists that no cell phone distraction is worth the risk. Worse than a ticket, distracted driving can lead to accidents, injuries and even death.
The National Highway Traffic Safety Administration (NHTSA) says nationwide in 2015, 3,477 people were killed and more than 391,000 were injured in accidents involving distracted drivers. The National Safety Council observes April as Distracted Driving Awareness month to draw attention to this epidemic.
Cell phone use while driving causes 1.6 million crashes each year
Texting while driving is 6x more likely to cause an accident than driving drunk
Nearly 330,000 injuries occur each year from accidents caused while texting and driving
More than 8 people are killed each day in the U.S. due to distracted driving
States Reporting an Increase in Distracted Driving Tickets
New York
The Associated Press has reported that New York state troopers issued more than 15,000 tickets during a 5-day sweep targeting distracted drivers. The weeklong campaign occurred April 6-10 during Distracted Driving Awareness month and was funded by Governor Cuomo's Traffic Safety Committee. The average ticket price for distracted driving in New York is $93.
New Jersey
NorthJersey.com is reporting that law enforcement is handing out $200 tickets during a three week "U Drive U Text U Pay" crackdown on distracted driving. More than 300 drivers are ticketed each day for inattention during the campaign, based on last April's records. Police explain that cellphones are easier to see when they light up in cars after dark.
Texas
ABC News 7 in El Paso, Texas has reported that TxDot, the state agency for transportation, says that one in five crashes will occur due to driver distraction. More than 90 cities in Texas have banned cell phones and texting while driving. The average ticket price for distracted driving will cost you $116.
ProClip Mobile Mounting Solutions
ProClip has vehicle-specific and device-specific mounting solutions. Our phone holders and dashboard mounts keep your device safely secured in your vehicle, allowing you to keep your eyes on the road. Not only are our mounts a great legal option, they are also the safe option. Not convinced? Just ask our customers! 86% of our customers say they are a safer driver since installing their ProClip mount.