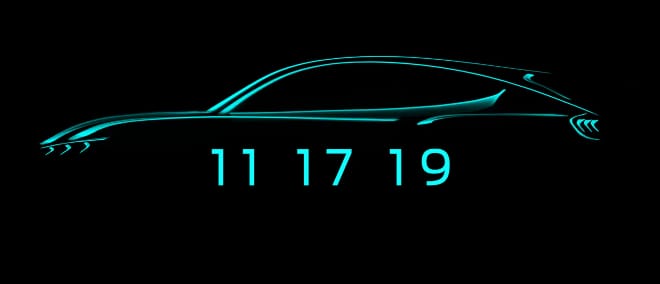 Ford is ready to unveil their newest innovation on November 17: a Mustang-inspired, fully electric SUV. While the announcement date is still around the corner, a number of automotive manufacturers selling all-electric vehicles are keeping their eyes open. Ford gave a sneak-peak of its Mustang-inspired crossover about 14 months ago, yet few details were known. Following plenty of rumors, the unveiling will finally provide answers at the LA Auto Show.
What We Know
As for the rumors themselves, there are some hints out there—like Ford's new webpage detailing some of the new arrival's specs. The manufacturer has mentioned an EPA-estimated 300-mile range, listing a number of features aimed at dispelling battery-powered vehicle myths.
Another good hint shedding light on the new arrival is Ford's stated direction within the industry. It's become increasingly dedicated to all-electric vehicles, and many drivers are expecting to see an electric F-150 somewhere down the line. Back in 2016, Ford's Chairman, Bill Ford, equated plug-in hybrids with transitional technology.
In 2018, Ford stated its plans to invest $11 billion in building a 16-vehicle-wide addition to its electric global portfolio—landing at 40 electric vehicles, overall, through 2022. In September, the manufacturer displayed a slew of hybrid vehicles at the Frankfurt Motor Show—discussing its newest plan to sell over one million electric vehicles in Europe. 2022 was, once more, a target end date.
The Mustang-Inspired Performance SUV
The resurrection of the company's campaign to design zero-emission vehicles revealed another interesting tidbit about Ford's upcoming arrival: It's referred to as a "performance SUV," expected to be titled the "Mach E," before its debut.
The high-performance approach to alternative-powertrain vehicles isn't necessarily surprising, either. Still, it's been a decade since Ford first introduced the all-electric Ford Focus—which is noted for its lackluster sales and suspected to be a historical compliance rollout.
These days, though, Ford is much more proactive with informing drivers about the benefits of all-electric vehicles. They've announced they'll give drivers access to over 12,000 vehicle charging stations across North America, further redefining the face of roadways which will see the new, all-electric rollouts. Whatever Ford's newest addition may be—it'll certainly be an exciting one.