#ItFitsMe Spotlight Series
Welcome to our #ItFitsMe Spotlight Series where we shine a spotlight on real cars and real owners, showcasing how ProClip fits into their life.
Meet Kim and her Jeep Gladiator JT
Lady driven and built to accessorize, the Jeep Gladiator is the eye-catching 2020 Wrangler Truck that everyone is talking about. Wrapping the entire truck with 3M neon yellow vinyl, Kim's Gladiator Rubicon is the epitome of customization. Co-host of ShockerRacing on YouTube, Kim is a race-car enthusiast turned Jeep community superstar. Married to James, a previous Exhaust Notes featured build, they added another sibling to their family of Jeeps. Together they tag-team Jeep tutorials and provide helpful how-to install videos.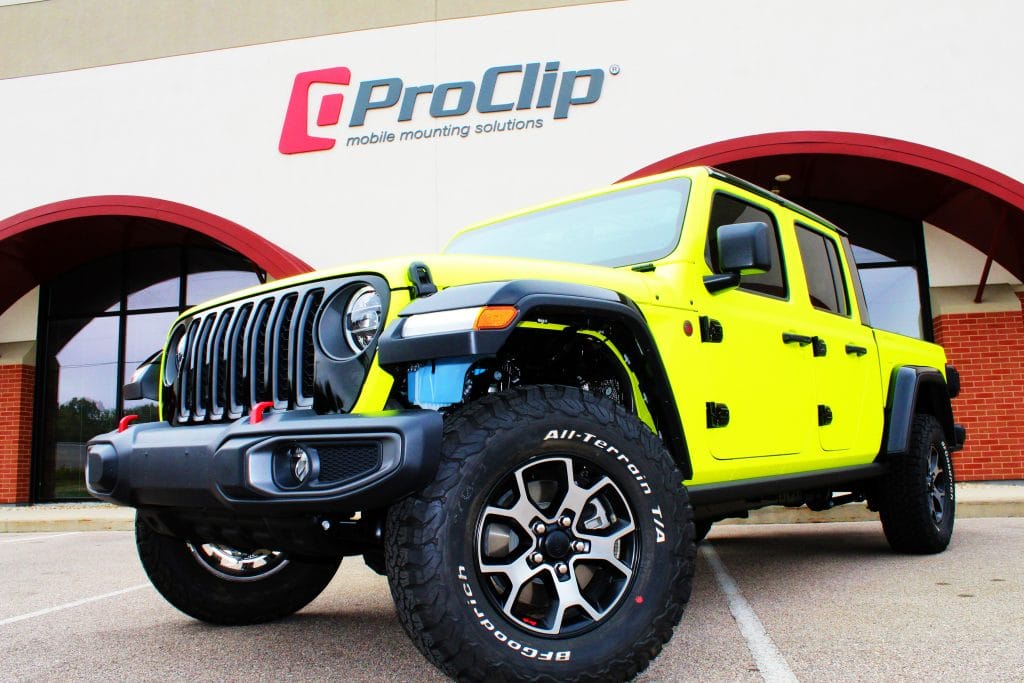 The 2020 Jeep Gladiator JT is a truck-inspired reincarnation of America's favorite automotive puzzle. Like it or not, Jeep is back in the truck business offering an attractive mid-size pickup with 7,000-LB maximum towing and 1,250-LB payload capacity. Jeep Truck owners can easily shed the exterior by taking off all four doors, folding down the windshield and exposing the roof with optional soft or 3-piece hardtop. But where do you put the extra wheel and tire? Kim keeps her 40-inch spare tire in the spacious Gladiator truck bed.
Featuring the same 2018-2020 Jeep Wrangler JL dashboard, the Gladiator Rubicon trim level has all the bells and whistles. To complement the UCONNECT 4C Navigation with 8.4-inch Touchscreen, the ProClip Jeep Gladiator Mount can be positioned anywhere on the horizontal dash top and is compatible with both Android Auto and Apple Car Play. Mounting a tablet? The ProClip Extra Strength Jeep Gladiator Mount can hold multiple devices, tablets and even a GoPro action camera. Keep your smartphone solid and secure on that next off-road adventure.
Jeep Gladiator Modifications
3M Neon Fluorescent Yellow Vinyl Wrap
Teraflex 17" NOMAD Wheels
40" Nitto Trail Grappler Tires
Evo MFG 4.5" Enforcer Lift Kit
Evo Spec King Shocks

How Does ProClip Fit You?
We specialize in creating custom dashboard mounts to dock the latest devices from smartphones and tablets to performance devices like air suspension controllers. ProClip Jeep Wrangler Mounts fit several models including the Gladiator, JL, JK, and the Jeep TJ series dating back to 1997. Get started by finding the right mount for your vehicle.
Are you nearby Madison, WI and want us to spotlight your car? Shoot us an email at customerservice@proclipusa.com and tell us what makes your car special and how ProClip fits for you!