Our latest iPhone 5 holder (514426) is now available for pre-ordering! We will start shipping the first orders Monday, October 15th. We've been working on a cable attachment holder, similar to the iPhone 3, 3GS, 4, 4S and iPod Touch Series holder we announced last week, and it is now ready!

Using the iPhone 5 Holder to Charge
The iPhone 5 holder with cable attachmentcomes with a tilt swivel and a cigarette plug adapter.
Since Apple has not approved any 3rd party manufacturing of the Lightning Cable, customers will have to use the original Lightning Cable received when the iPhone 5 was purchased. It looks like Apple has started to ship cables, pass-through docks and other accessories that were not originally available, but supplies are still limited.
Once installed the Lightning Cable can be removed from the new ProClip Holder if desired; for best use we advise leaving the cable in place.
You can charge your iPhone by connecting the cable to your vehicle's USB socket or by using the USB/cigarette plug adapter with your vehicle's 12V socket.
Using the iPhone 5 Holder with Cases and Skins
This holder is meant for iPhone 5 with cases, skins, wraps and shields. The top of the holder slides up to adjust to the device/case. The Otterbox Defender Case and Ballistic Case will not work with this holder.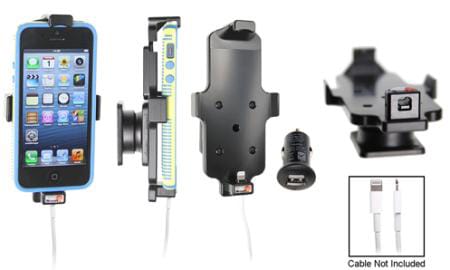 Using the iPhone 5 Holder to Transmit Audio Files
Like the holder we recently released for late generation iPhones and iPod Touch, this holder also allows you to transmit audio files from the iPhone through the USB cable. In order for this to work, this feature must be supported by the stereo in your car and by the phone. You can test this by connecting the iPhone to the stereo with the USB charging cable that came with it. Charging through USB will still work even if audio file transmitting is not supported.
Dedicated iPhone 5 Charging Holder
The new Lightning Connector and Apple's new third-party certification rules will likely delay any Lightning-compatible accessories. We are still working on a design for our pass-through and dedicated charging holders for iPhone 5. We will keep you updated as we learn more. Check back here on our blog or on our Facebook page to get the latest information.
More iPhone 5 Adjustable Holders for Use with Cases and Skins
We have three additional adjustable holders for iPhone 5 that are available for pre-order. These are non-charging, tilt swivel holders.