We have a new iPhone adjustable charging holder option that is compatible with iPhone 3, 3GS, 4, 4S and iPod Touch series. This holder is unfortunately not compatible with iPhone 5 or the new iPod Touch because of the Lightning Connector.
Our Typical iPhone/iPod Holder Options for Charging
This style holder is different than our other charging holders. Generally we release two styles of charging holders. One option connects to your vehicle's cigarette plug and the other is made for fixed installation with the use of a straight power cable that is hard wired behind your vehicle's dashboard.
Our Typical iPhone/iPod Holder Options for Cases
For almost all devices, we also release holders for phones without a case and some holders for phones used with cases, skins or bumpers. These holders adjust to fit the width of the phone when used with the case.
New iPhone Holder Design
This new adjustable charging holder can rapid and trickle charge your iPhone/iPod Touch by either connecting the cigarette plug to your vehicle's 12V socket or connecting the USB cable to your vehicle's USB connector. Your vehicle must have a USB interface for the iPhone/iPod to charge with the USB connection.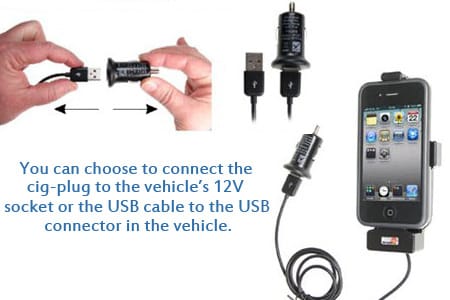 The new adjustable charging iPhone holder is compatible with the iPhone 3G, 3GS, 4, 4S and iPod touch used both with and without cases. This compatibility is possible because the holder attaches to the top and bottom of the phone, but the sides of the phone are left open.
Transmitting Audio Files through the USB Cable
A great feature of this holder is the ability to transmit audio files from the iPhone through the USB cable. In order for this to work, this feature must be supported by the stereo in your car and by the phone. This can be easily tested by connecting the iPhone to the stereo with the USB charging cable that came with it. Charging through USB will still work even if audio file transmitting is not supported.
iPhone 5 Holders
It is important to note this holder is not compatible with the new iPhone 5. We have two holders currently available for the iPhone 5 and are working to release a Cable Attachment holder soon. The two holders we currently have are an adjustable holder for iPhone 5 used with a case and a padded holder for iPhone 5 without a case that is available for pre-order.
The new Lightning Connector has complicated the design process more than typical phone releases. Apple also has new third-party certification rules that will most likely delay the launch of Lightning-compatible accessories. This will mean a delay in any of our pass-through or dedicated charging holders.