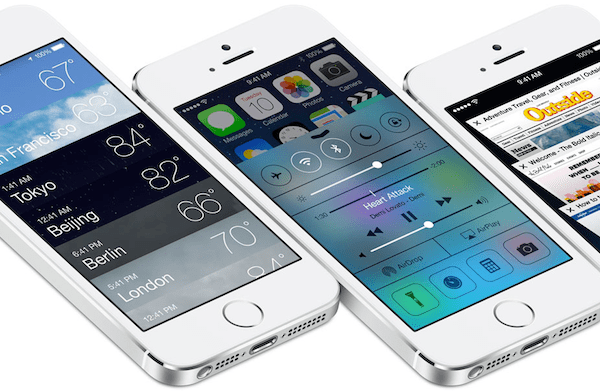 Last week, Apple revealed its new iPhone 5s and iPhone 5c. We took a deeper look at the colorful iPhone 5c and also the iPhone 5s, which is complete with the Touch ID fingerprint encryption system and the first smartphone 64 bit processor. Overall, hardware on the new 5s is stunningly elegant and the 5c is a creative new approach to the dwindling iPhone 5. Powering new iPhone devices will be the completely redesigned brainchild of Jony Ive, iOS 7.
Design
All previous iOS versions were full of vibrant textures, patterns, and life-like designs. As an example, the pool table felt design of Apple's Game Center is considered a texture design of a life-like item, which the industry terms "skeuomorphic." As Johny Ive, Senior Vice President of Design, took his new role, Tim Cook placed him in charge of designing for both hard- and software, which allows both to co-exist in a harmony unmatched by many other current computer companies.
Ive's new image for iOS 7 is minimalistic and sleek in a manner that required abolishing the look and experience of all previous iOS versions. The essence of the original operating system is still present and lively, but the weight and heft of the older design is now lifted.
Control Center
Many consumers requested a quick toggle system for main controls like WiFi, Bluetooth, Do Not Disturb, and a flashlight. In fact, on the seedier side of the software world, some jailbreak their devices just for this feature, which allows them to manipulate the device in ways Apple never intended.
However, with the inception of iOS 7, the Control Center is accessed by swiping up on the screen from the dock, revealing a succinct location to toggle just the items people were looking to find – Airplane, WiFi, Bluetooth, Do Not Disturb, Orientation Lock. In addition, screen brightness, music controls, timers, calculator, and camera are all found in this new system tray.
Multitasking
Double tapping the Home button allows users to control currently initiated apps. Previously, minimal sized app icons were located in the bottom multi-tasking tray. In iOS 7, larger app icons and full screenshots of the running application will be viewable to the user. This will more easily allow users to locate the desired task. Additionally, the system will only update apps during power efficient times, like when connected to WiFi. Moreover, iOS will recognize times when updating is needed less often, such as over the nighttime hours.
Camera
One of the most used Apple apps, Camera is newly updated. Of course, previous modes are available, like video and panorama, but live action filters can be applied while the photo is being taken, allowing the user to foresee the final result. Additional options like burst shutter mode and a square photo option will help users define their own experiences.
AirDrop
A completely new feature, AirDrop allows the passing of photos, documents, videos, contacts and more, by simply finding people nearby. If an app has a share button, there is a way to AirDrop the item to a local person. Of course, there are several privacy settings to help navigate this open communication, but it will be perfect for friends and family that want to easily share items without the heft of creating an email or transmitting via text message.
Once the sender determines the file to share, a selection of nearby contacts is listed. Tapping the individual users will initiate the send. Receiving contacts will find a pop up notification on their iPhone, requesting permission to download the new content.
iTunes Radio
Many users listen to music through streaming services, like Pandora, Spotify, and Rdio. Apple is looking to make the streaming opportunity native with iOS 7. The Music.app now includes the option to stream music through Apple's own service. The added benefit to Apple's streaming version is the ability to instantly download new music from the Now Playing screen. With the iPhone 5s Touch ID system, a password will not even slow you down.
The ultimate packaged deal, customers that already subscribe to iTunes Match will be able to listen to iTunes Radio completely ad free.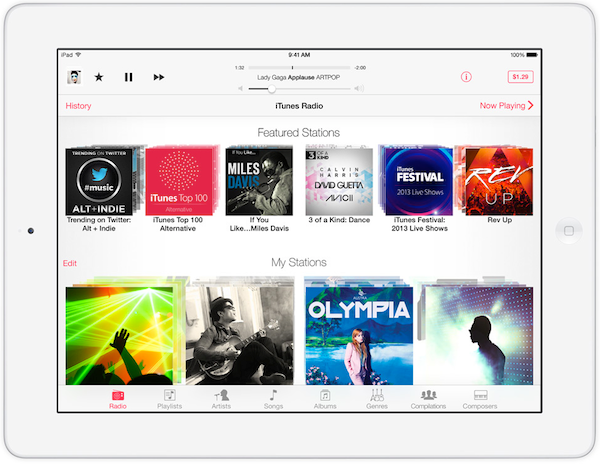 Release
iOS 7 was released today, September 18, for devices including the iPhone 4 and newer, or the iPad 2 and newer. The update will be provided over the air, with the user receiving an automatically generated pop-up notification when it is ready. Always make sure to back up your device before accepting the upgrade.