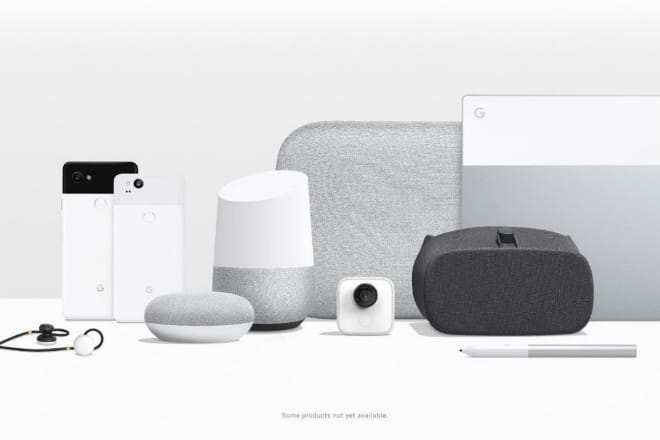 Google unveiled its latest line of smartphone products on October 4, 2017. Google displayed the new Pixel 2 and Pixel 2 XL devices, powered by Google's Android operating system. Also revealed were the Daydream View virtual reality headset and new Google Pixel Buds, which are wireless headphones.
Google's Pixel 2 Event
Pixel 2
Fans of the original Pixel, which came out in 2016, won't want to miss Google's new model, the Pixel 2. While it still has a 5-inch OLED display, the technology has been upgraded.
The new Pixel 2 packs 4GB of RAM, a 12MP camera and is powered by the Snapdragon 835 chipset. Pixel 2 models will be available in white, blue and black. $649 is required for the 64GB version and the 128GB version will set you back $749.
Pixel 2 XL
If the Pixel 2 is not quite what you were hoping for in terms of hardware, Google has also released its Pixel 2 XL. It's distinguished by the larger 6-inch pOLED display, which extends to near the device's edges. Available in monochromatic black as well as in black-and-white, you can order a 64GB model for $849 and a 128GB model for $949.
Google Pixel Buds
When you want to enjoy music, TV or a movie with your Pixel 2 phone, you'll get a superior audio experience by pairing the device with Google's new wireless headphones, called Pixel Buds.
They provide 24 hours of listening on a single charge. Pixel Buds have surfaces that enable you to use gestures to control playback. They come in black, white and blue and retail for $159.
What's more, Google's new headphones allow for real-time translation between two people speaking different languages.
Daydream View
A pioneer in virtual reality, Google released its newly upgraded Daydream View virtual reality headset, which is capable of pairing with Pixel 2 phones and other phones that are certified as being Pixel 2-compatible (you'll need to consult manufacturer's details to be certain if a particular device will work with the Daydream View).
The upgraded headset boasts new lenses that are clearer and provide a wider view field. It is available in charcoal, coral and fog colors and costs $99.
When using the new Pixel 2 device, get more enjoyment out of it by using it in hands-free mode. Position the phone in a sturdy tabletop mount that keeps the display at your preferred viewing angle while reading the news or watching a video.