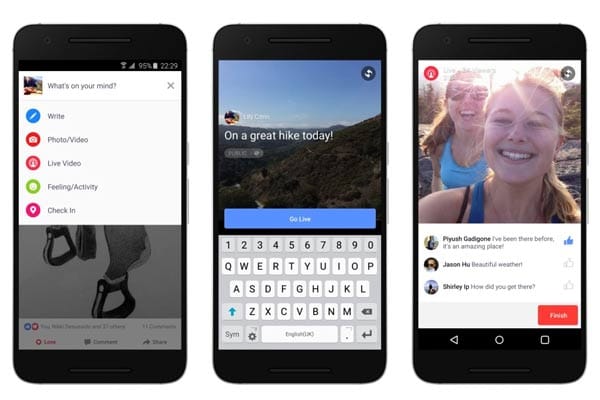 (via Facebook)
Being able to share information about your environment no matter where you are (assuming adequate cellular data or Wi-Fi networks are within reach) gives us unprecedented ways to connect with friends and family.
The cameras built into our mobile devices let us take pictures and shoot videos to later post online, a feature that makes platforms like YouTube and Facebook so popular. But with new platforms like, Periscope, we now have the ability to shoot a live video stream and connect in real time with people anywhere in the world via the Internet.
Users of Facebook will soon have the capability to transmit live video feeds from their Android smartphone. The company announced it will launch the Live broadcasting platform sometime during the second week of March.
Using Live
You will need to have Facebook installed on your Android mobile device to use the Live service. To begin, launch Facebook and tap the "What's on Your Mind" icon, located above your News Feed. Then tap the Live Video icon. You'll be prompted to type in a brief description of your video feed.
You will be able to see how many viewers are currently checking out the stream, the names of friends who are connected, and you will also be able to read their comments in real time during each broadcast.
If your friends or followers are not available for a live viewing of your video stream, a copy of the video will be saved in your timeline for them to check out at their convenience.
Facts About Facebook
If you haven't been keeping up with the ongoing press coverage of Facebook, some statistics about the company may intrigue you as well as encourage you to start using the Live broadcasting feature, especially if you use the social platform for your personal brand or business.
An average of 934 million mobile users are on the system every day.
Reflecting the growing popularity of Facebook's mobile app, some 1.44 billion mobile users are active on Facebook every month.
If you need a good way to stream video from your Android device through a network that will give you an enormous amount of exposure, the new Facebook live platform may be just what you've been looking for.