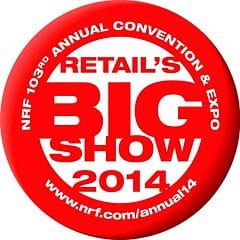 The National Retail Federation hosts an annual event known as "Retail's BIG Show." The show is held in New York City and focuses on technologies and solutions for retailers. This year's conference will be held January 12-15, 2014.
We will be attending the show and exhibiting at booth 4404.
One of the main products we will highlight at the show is our universal phone mount, the iOauto. This product comes from a new a partnership with iOmounts in which we combine our vehicle specific mounts with the universal iOauto technology that can be used with almost any phone or tablet. The iOauto can also be used with our suction cup mounts or bicycle handlebar mounts for a truly universal solution.
We do also offer retail kiosk mounts that make great mounting solutions for retail stores. One example of this is ChowNow. ChowNow builds custom apps and software for restaurants. Orders are placed through a mobile app, Facebook page or website. Many ChowNow tablets used by restaurants are equipped with a customized ProClip retail kiosk mount and tablet holder.
We look forward to seeing what this year's show has to offer! Here's a quick look into the show.