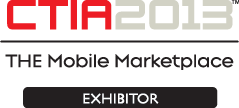 We will be attending the annual CTIA conference in Las Vegas, Nevada. CTIA 2013 is from May 21st to 23rd.
CTIA is "The Mobile Marketplace" tradeshow. It is presented by CTIA – The Wireless Association and focuses on developments and key leaders in the ever changing mobile technology industry.
There will be over 35,000 people who attend the event this year. We will be one of 1,000 exhibitors.
Will You Be at CTIA?
Come say hello! You can see our products, sign up for a special giveaway with the chance to win one of two tablets, plus grab a free ProClip Mount Something t-shirt just for stopping by! We will be exhibiting at booth 7262.
CTIA is a great place to meet companies in the industry. We can't wait to see everybody there!