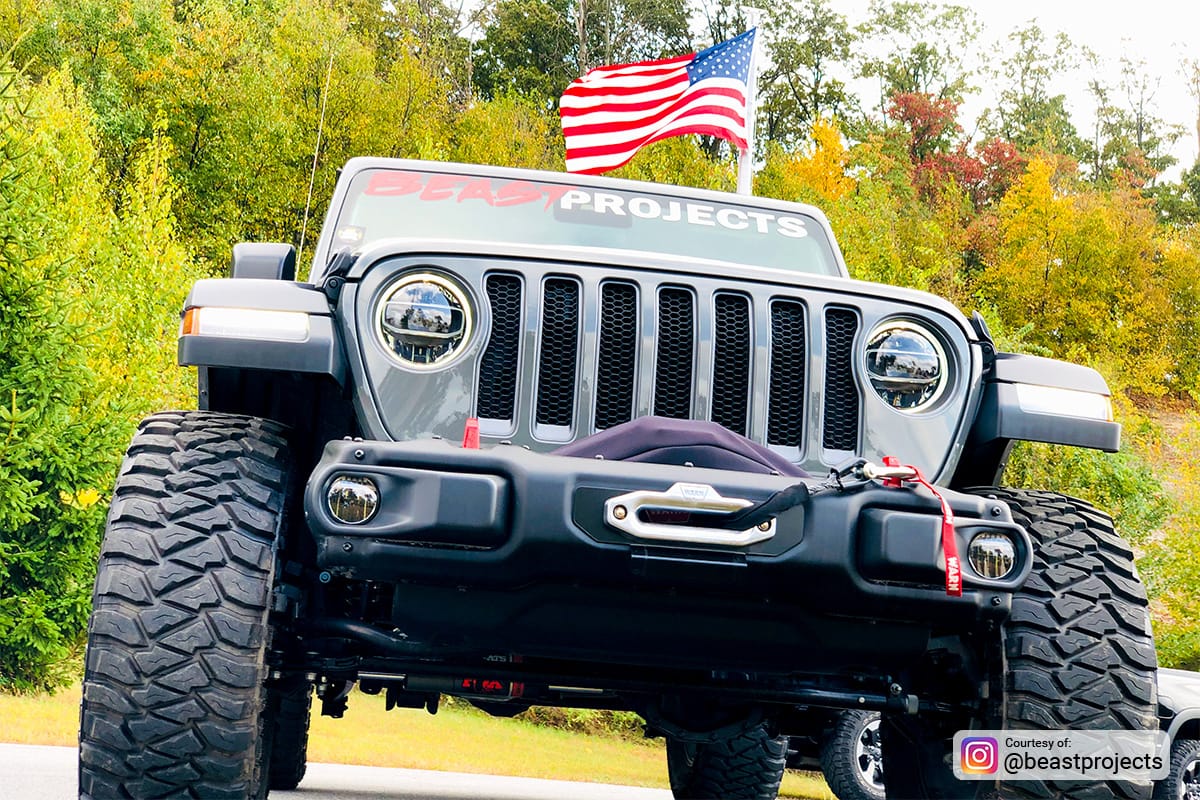 Steve, also known as @beastprojects on Instagram and @rambeastprojects on YouTube, owns four different Mopar vehicles. The 2015 Dodge RAM 2500, 2019 Dodge RAM 1500 Rebel, 2019 Jeep Wrangler Rubicon JLU and 2019 Dodge Charger 392. From Pennsylvania, Steve enjoys creating family-friendly automotive content. His Mopar fleet features four custom ProClip iPhone 11 charging mounts with cleanly routed wires. Consequently, Steve uses the mounts primarily for GPS, music and the EzLynk vehicle diagnostic application. Want more Mopar modification how-to installs? Tune in to watch him install some quality aftermarket car parts and check out his Instagram and YouTube for in-depth official Mopar mod tutorials. After that save 10% off your order today using his discount code: RAMBEAST.
ProClip Dodge RAM Mount
Centrally located and within easy reach, the 2019 Dodge RAM Mount #855417 is positioned slightly near the driver to allow full access and view of the 12-inch head unit display. The 2019 and newer Dodge RAM 1500 and Rebel trims feature three mounting locations including center mount, right vent and extra strength mount with adjustable pedestal. ProClip vehicle mounts clip into the existing dashboard seams and install in 3 minutes or less. No dashboard dismantling is required and the ProClip mount will remove without damaging the dash or leaving any residue. In addition, ProClip Dodge RAM mounts can fit older generation trucks dating back to 1994.
ProClip Official Mopar Mounts
The most OEM and custom Mopar mounting system on the market. ProClip is an official Mopar product offering licensed parts and accessories. Compatible with Android Auto and Apple Car Play, ProClip charging phone mounts offer plug and play functionality to dock, rotate and charge your smartphone. Pair the ProClip phone mount with built-in UCONNECT platform to view your device in plain sight. Select ProClip vehicle mounts feature the official Mopar seal as genuine aftermarket parts. Mount a smartphone in the following popular Mopar vehicles: Dodge Challenger, Jeep Wrangler, Jeep Grand Cherokee, Chrysler 300, Dodge Dart and more!