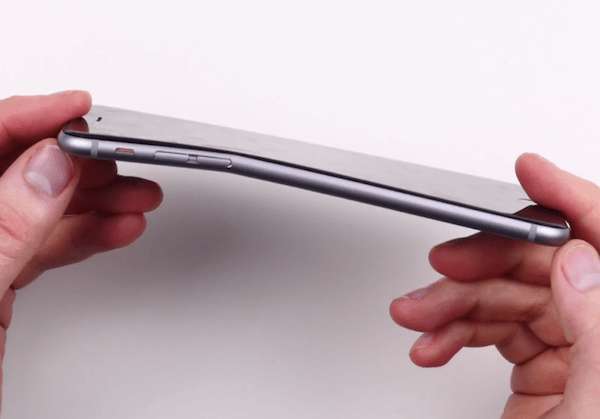 The week after iPhone's Friday September 19 launch caused a stir in the mobile industry. From operating system issues to bent iPhones, Apple took several shots from the mainstream over quality control items. Just after officially announcing their new sales record of 10+ million units in a short 72 hour period, the Cupertino based company saw a media backlash about its new flagship devices, the iPhone 6 Plus.
Reports began surfacing just a week ago, claiming the iPhone 6 was bending in some users pockets. The reports seemed to be limited to users wearing extremely tight pants or sitting on the device, which was kept in a back pocket. Word spread quickly about the potential for bending and popular YouTuber "Unbox Therapy" took to his channel, definitively proving iPhone 6 Plus was very bendable. The video below, having only been published since September 23 has already received more than 48 million views:
The issue popularity garnered almost meme status when other videos cropped up around the internet of people bending their iPhone or any number of other strange things like smashing it with a hammer, freezing it in liquid nitrogen, skydiving with it, etc. The flurry of internet banter surrounding the bendable iPhone 6 caused Apple to invite reporters to its own strength testing lab. Below is a short report video of the actual Apple testing facility as captured by Re/code:
Jumping on the scene, Consumer Reports decided to produce a few tests of their own. As one of the most reputable sources of product reviews for decades, Consumer Reports recently released their findings in a definitive report where they crushed a number of different smartphones. All phones were bendable to certain poundages, but phones are not meant to be bent. iPhone 6 was deemed less bendy than previously expected.
Apple responded to the claims with a report that only 9 people have officially complained about a bent iPhone 6 or 6 Plus. According to Apple, "iPhone 6 and iPhone 6 Plus feature a precision engineered unibody enclosure constructed from machining a custom grade of 6000 series anodized aluminum, which is tempered for extra strength."
However, bendy iPhones were not Apple's only worry on week 1. Apple released an update to its new iOS 8 system for iPhone. The iOS 8.0.1 update was retracted when it was discovered the software update caused iPhone 6 users to lose the ability to connect to their cellular networks. The same day, Apple released iOS 8.0.2 to correct this detrimental error.
From one blunder to another, Apple's first week with iPhone 6 on store shelves was quite rocky. The media was quick to point a finger at Apple, which is a company that typically prides itself on launching perfect, infallible products. While the iPhone 6 is launching in 20 additional countries, including China, the company is unlikely to see sales decline. However, there is no denying the media's ability to thwart some buyers from an immediate purchase. If only 9 customers have actually filed a complaint about bendable iPhones, it would seem the frenzy was socially constructed.