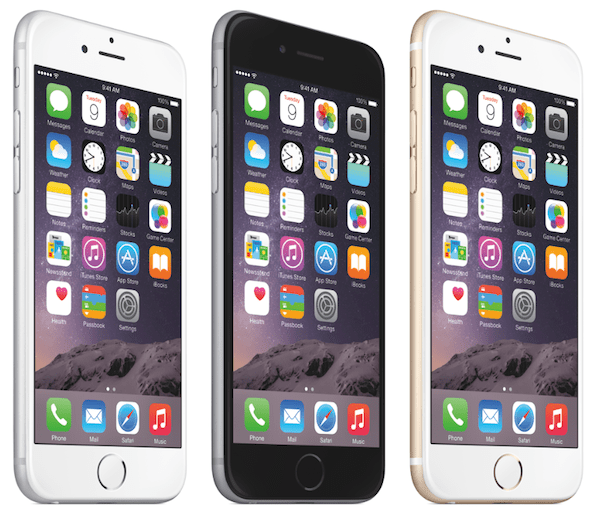 On Monday, September 22, 2014, Apple officially announced it sold more than 10 million iPhone 6 and 6 Plus units within 72 hours of official launch on Friday, September 19. This stunning number represents a shocking new record, solidifying Apple's reign at the top chart for most smartphones sold on a product launch. According to CEO Tim Cook, "sales for iPhone 6 and iPhone 6 Plus exceeded our expectations for the launch weekend, and we couldn't be happier."
The Apple press release continues to expound on the new devices calling them the biggest advancements in iPhone history, pointing out the new thin and seamless design, all new A8 processor chip, and the forthcoming Apple Pay system. Apple argues the new included software, iOS 8, is the biggest software release since the App Store itself, as 8 boasts better messaging, photo editing, and predictive typing.
Most shockingly, iPhone 6 and 6 Plus numbers passed 10 million units sold, without even launching in China's mobile market, which is larger than the US. Currently, iPhone 6/Plus are available in US, Australia, Canada, France, Germany, Hong Kong, Japan, Puerto Rico, Singapore and the UK with more than 20 additional countries being added on September 26 and 115 total countries will be carriers by year's end.
Of course, tempering these numbers are pre-orders, which actually began Friday, September 12. It is unclear whether Apple includes these numbers in their 72 hour window, but most certainly the company does. According to Apple's official press release on September 15, the pre-order number also set a new record, topping 4 million total units in the first 24 hours alone.
Looking forward, some iPhone 6 availability has already improved just days after the initial launch. While the iPhone 6 Plus still appears to be the most allusive, iPhone 6 units can even be picked up in local Apple Retail Stores. Because of the 6 Plus shortage, some iPhone scalpers have taken to eBay and Craigslist to sell their devices for hundreds of dollars in profit. Some iPhone 6 Plus 128GB models are listing at $1,200 and higher.
The iPhone 6 launch is a media frenzy with mainstream news groups picking up on the excitement. Perth Australia customer, known only as Jack, was the world's first to run out with his iPhone 6. In shaking excitement, watch him tragically drop his new device on the pavement in front of a live audience and hundreds of in-line onlookers:
iPhone 6 and 6 Plus have been met with some reservations, although the new sales record does not chronicle the sentiment. Many customers are extremely excited about the new iPad-inspired form factor with rounded edges and even thinner design. However, some have found the new "phablet" sized iPhone 6 Plus rather surprising to use. Having spent the weekend with our own iPhone 6 Plus, we are excited to have seen Apple's newest top-tier device and prepare our own product line around it.
As you know, we specialize in making car mounts for handsets. If you managed to snag one of the first sets of iPhone 6 orders, or plan to in the future, make sure to also snag an iPhone 6 / Plus ProClip USA mount and harnesses. You can pre-order for either the iPhone 6 or iPhone 6 Plus, now! If you aren't quite ready to commit, sign up to be notified when these holders become available.