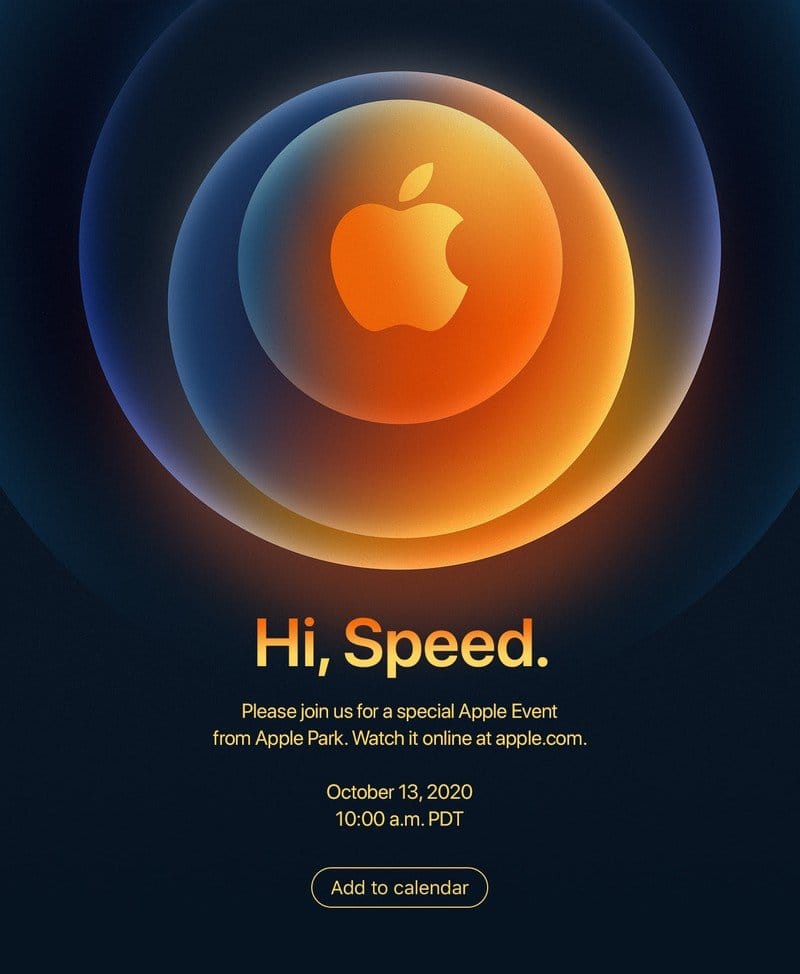 On Tuesday, October 6, Apple sent invitations to media members for the "Hi, Speed" event to be held virtually on Tuesday, October 13. The much anticipated iPhone 12 devices are expected to debut at the event, complete with an overhauled form factor. Additional hardware is expected to be refreshed and a few completely new items may make a big splash.
Apple Event "Hi, Speed"
The fall lineup always includes updates to Apple's handsets. The iPhone 12 has been rumored with a wide variety of assorted upgrades. Foremost, all four new iPhone 12 devices are expected to take design cues from the iPad Pro and newly released iPad Air. A more squared design also harkens to the iPhone 5 and iPhone 5s, the design language just before the current generation. The four sizes are expected in 5.4″, 6.1″, and 6.7″, where the smallest and largest options are only offered in the iPhone Mini and iPhone Pro Max models, respectively. The 6.1″ model is said to be available as "the" iPhone 12 and also in an iPhone 12 Pro variant.
Another major upgrade is hinted in the event name "Hi, Speed." It seems that Apple is both greeting speed, but also playing on the word "high" speed. The new iPhone 12 devices are anticipated to come with modernized 5G speeds, which is currently available in select markets depending on cellular carrier. The upgrade in speed is said to be similar to the boosted effects of switching from 3G to LTE back in the early 2010's.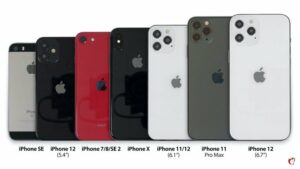 As a cost savings measure, possibly disguised as a veiled claim to push toward carbon neutrality, iPhone 12 devices may not come with charging bricks. Arm chair pundits claim the brick will be left out in an attempt to offset the increased costs of 5G antenna and modems.
On Pro variations, expect to see a LiDAR sensor that is borrowed from the early-2020 iPad Pro devices. LiDAR has the potential to enhance Portrait Mode photos and help with augmented reality applications.
Additional Hardware
Apple's GPS-based tracker disks are expected make an appearance. These little items, possibly the diameter of a 50-cent piece, are a way to tag your items so they can be found via your iPhone. This is expected to be a direct competitor to the Tile line of products. Apple may be able to enhance their version of the tracker tags by using custom designed chipsets to crowd source the location of the tags using other iOS devices — not necessarily your own. This would allow you to find that misplaced backpack at the park, even if your iPhone is not the iPhone near your Apple tag.
Watermark-less white.

I did say they looked a bit worse IMO pic.twitter.com/AiYNMyfktR

— Fudge (@choco_bit) September 16, 2020
Studio style headphones are also anticipated at the event. Less is known about the headset, but it is expected to be a premium device sitting above the Beats lineup. Using current AirPods technology, over the ear headphones would offer a more premium audio experience, given the ability to house much larger drivers. Longer playback time would also be a benefit, given the larger space for battery capacity.
Others anticipate the first ARM based Apple computer will be launched. At WWDC 2020, Apple announced they are now making silicon chips for their laptop lineup. Unless there is another media event later this fall, it is reasonable to assume their first version of this upgrade is possible on Tuesday.
A smaller HomePod is expected, but there have been scarce hardware leaks from the supply chain to support this claim.
Similarly, Apple TV has not been rumored for an upgrade, but the current version is growing old. The current Apple TV has not been updated in more than 1,100 days. This is almost twice as long as the previous generations upgrade cycle.
The event will be streamed on Apple.com and, most likely, YouTube, starting at 10:00AM PT on Tuesday October 13, 2020.