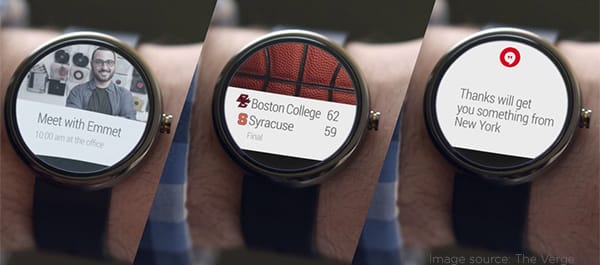 Since the advent of the cell phone, watches have slowly fallen out of style–especially among the younger crowd. Because phones do everything a watch does and much more, there is little reason for people to continue wearing timepieces on their wrists. Google is currently developing Android watches, though, which will perform many of the functions that people use phones for. Could "smart watches" reverse this trend and save the wristwatch from becoming an artifact of the past?
Google's Accomplices
Google is heading up the development of Android watches, but the company is working closely together with many other companies on this project. LG and Motorola will be releasing devices this year, while Asus, Samsung and HTC all also have been working on designs. Google has consulted all the major chip makers, Imagination, Broadcom, Intel, Qualcomm and Mediatek. Even Fossil Group, which is already known for its watches, has been working with Google. This is not a fluke project Google is trying; many companies see a promising opportunity.
Releases Planned for This Year
So far, Motorola and LG have plans to release devices this year. Moto 360 is "coming summer 2014," according to Motorola's website. The Moto360 looks like a watch, but it gives directions, provides weather reports, sends and receives messages, and keeps a calendar. One selling point the official Moto360 website sports is that you can retrieve the information you need with just a glance; there is no need to interrupt whatever is going on by taking out your phone.
LG's G Watch performs many of the same functions as Moto 360, since it also is running on an Android platform. LG boats that the G Watch, which comes in either white or black, is water resistant and can be worn during "outdoor activities in rough conditions." As with most Android devices, the G Watch never turns off. Industry insiders expect this watch to be released sometime during the second quarter of this year, so it could come any day now.
Bringing Back the Watch
When compared to the latest smart phones, there is little that the Moto 360 and G Watch cannot do. Years ago, people became used to wearing a time piece on their wrist, and wrist watches eventually became more popular than pocket watches. Wrist watches have been abandoned in the past couple of decades, as phones became much more powerful. With the innovation of Google's Android Wear, the power of the smart phone is being married with the convenience of the wrist watch. Will this be enough to save the wrist watch? Only time will tell.