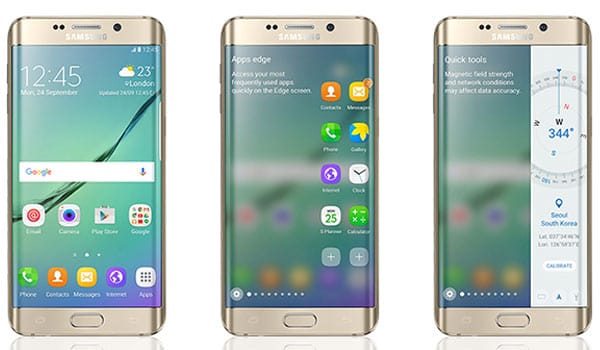 Samsung officially rolled out an Android 6.0 Marshmallow update for the Samsung Galaxy S6 and Samsung Galaxy S6 Edge. It comes complete with some exciting new features to make the Galaxy S6 both easier to use and easier to develop for. However, it will only be available for unlocked handsets first. If your phone is locked to a carrier network you might have to wait longer. Here are some of the big things that Samsung Galaxy S6 and Galaxy S6 Edge owners can look forward to once they download and install their new operating system update.
More Apps and Data Within the Edge Panel
Samsung has widened their Edge panel to increase its functionality within their flagship product. The updated Galaxy S6 Edge will be able to display more apps and data in the Edge panel, hopefully increasing its utility and making it easier for users to customize the look and feel of their phone. When the Galaxy S6 Edge was initially released, many of the apps and features of the Edge panel were locked in by the OS — this is quickly changing. In addition to widening the Edge, Samsung has added a new Tasks Edge, which makes it easier to customize the user experience.
Improved Security and Cross App Functionality
Samsung has created a new web browser for this update called Samsung Internet 4.0. It comes with increased security in the form of private browsing, similar to Google Chrome's "Incognito" mode. There are additional improvements to the way that the Galaxy S6 handles cross app features and permissions managing, so that users have more control over the apps they launch and what those apps are allowed to do. It even allows you to track how much memory your app is taking up and how often the app is running.
In addition to the above new features, the new Samsung Galaxy update also includes a new development kit for third-party developers — hopefully making the device more appealing to develop apps and utilities for.