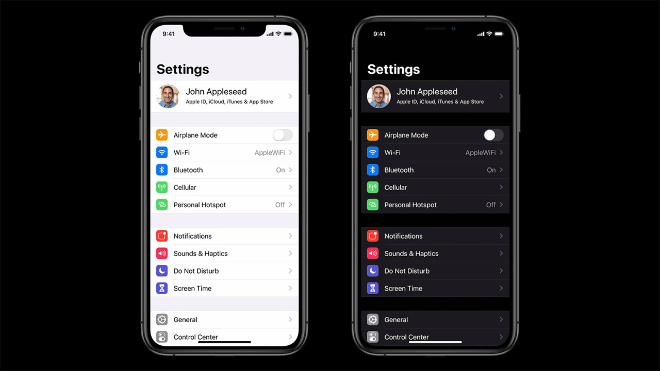 Apple has released an early version of an update to its iOS operating system for mobile devices, and the company includes a number of new features that you'll undoubtedly want to start exploring soon. But if you typically download the latest version of Apple's iOS operating system as soon as it comes out, you might want to hit the brakes this time and wait for an improved version. This is because some bugs have been discovered in iOS 13. If your iPhone still has the earlier version of 13, the new update to 13.1 became available as of September 24, 2019.
Major New Features in iOS 13
A range of new features comes with Apple's iOS 13 update, including a new Dark Mode for use in low-light environments, which you can schedule for use at particular times, such as sunset.
When shooting videos, you can make non-destructive edits, such as undoing a filter or a trim that you later decide to cancel and revert to the original video.
New privacy and security options allow you finer control over how much location data you allow a particular app to access. Drivers will appreciate that Apple has updated the Maps app to provide better details and realism, with 360-degree views to check out before you arrive at your destination.
Finally, you can expect that apps will launch up to 2 times faster in iOS 13 and the device will unlock 30 percent faster than with the previous iOS.
Be Aware of Bugs in iOS 13
It's always best to be cautious when updating your iPhone's operating system. Letting a new release get tested by a large number of early adopters helps to minimize the number of glitches that you will run into yourself.
Apple released iOS 13 with a bug that allowed people to bypass an iPhone's lock screen in order to access the contacts list, according to Wired. Another bug resulted in users losing projects and data from their iCloud online backups. What's more, a glitch made the display randomly switch from dark on light to light on dark, which presents problems for people with visual disabilities
Before you take advantage of new features and options from any iOS update, remember to back up all important files and data (such as contacts) in case a bug requires you to erase the device and start over.
Get More out of Your iPhone With a Hands-Free Option
In addition to updating your iPhone with the most current version of iOS 13, you can get even more out of the mobile device by relying on a strong and sturdy desk mount. Using a mount in your office while glancing at a document on the iPhone leaves your hands free. Or imagine taking a break and watching videos with no glare, thanks to the mount's ability to let you position your screen at the precise, perfect angle.