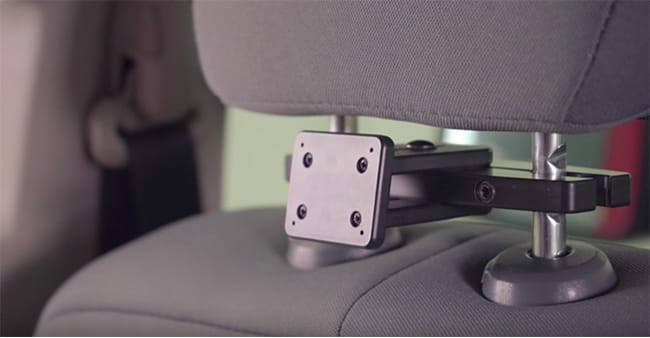 MOPAR OR NO CAR: The RAM 1500 features a unique Mopar performance package that screams American muscle. Starting in September 2016, genuine ProClip Headrest Mounts will be available for value add-on purchase at Mopar dealerships nationwide*. Headrest mounts are built to fit any Mopar vehicle, offering the end-user quick and easy installation.
Attaching your ProClip (2009-2017) Headrest Mount (811010) to your RAM 1500 headrest is easy. Follow the brief packaging instructions included with the mount or use the steps below. For more information, visit us today at proclipusa.com/mopar.
Measure both the inside and outside dimensions of the headrest posts using a ruler. Product #811010 will fit an inner measurement of 95mm or 3 ¾ inch and an outer measurement of 155mm or 6 inches.
Lift the headrest mount for some working room. Remove the (2) 4mm screws on each side of the face plate using the (included) Allen wrench.
Take the back of the mount and place it on the front side of the headrest post. Slide the front of the mount onto the back side of the headrest post and reinsert the (2) 4mm screws. Adjust the mount and securely tighten the (2) 4mm screws.
Then with the (included) 5mm Allen wrench loosen the screw on the bottom of the mount. Reposition the faceplate to the angle you want and then retighten the (1) 5mm screw.
Reposition the height of the headrest, adjust the mount and then securely tighten the (2) 4mm screws.
You now have a solid mounting platform for any one of our Tablet Holders to attach to the face plate of the Headrest Mount**. Held in a secure position, mounted tablets will allow rear seat passengers to play games, watch videos and more. Please view the following video for a detailed, easy-to-follow instructional demonstration.
[Video] How to Install Your Ram 1500 Mopar Headrest Mount
*ProClip Headrest Mounts are an officially licensed product of Mopar.
*Featured Video Tablet Holder: The Apple iPad Air 2 Holder with Key Lock (539577): Custom fit tablet holder with additional key locking mechanism for The Apple iPad Air 2.