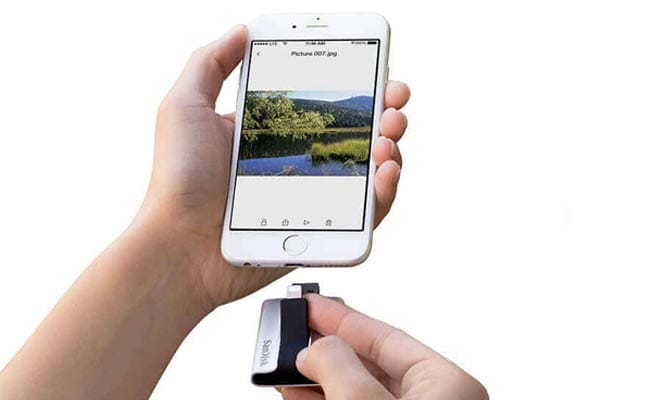 Buyers of Apple's mobile devices have to plan how much memory they want before making a purchase, since the iPhone, iPad and iPod Touch come with a fixed amount of storage that is not upgradable. Anyone who has had to frantically delete files first before being able to record a video with an iPhone or download something to an iPad is aware of the frustrations that can arise with limited storage capacity.
It's true that you can use cloud services to back up files or transfer them from your mobile device to a computer, but having to delete them from your local iOS device may not be so convenient for you, even if you can always recover the documents later.
Users who require more storage while on the go can use a flash drive with the iOS device, but first you'll have to purchase a Lightning-to-USB cable to plug in the drive or find a flash drive that comes with a built-in Lightning-compatible connector. Instead of messing around with extra cabling and adapters, you may find it more convenient to use the new iXpand flash drive from SanDisk.
Easy Backups and Encryption
SanDisk's iXpand flash drive is now available with prices ranging from $49 (16GB) to $129 (128GB), according to a recent report at BetaNews. It comes with a 3.0 USB connector as well as a flexible Lightning connector.
Encryption software on the drive gives you password protection so you can share only the files you want with people between devices. If you are in the habit of taking lots of pictures and videos, you can now shoot and save these files directly to the iXpand drive.
If you're the type of person who routinely goes through your iPhone, iPad or iPod Touch to weed out large files to delete to make room for something new, the iXpand Flash Drive's added capacity may be just what you need. Your files will be safely backed up and you'll be able to use your device without having to constantly choose which documents must be pruned next to give you the requisite storage space.