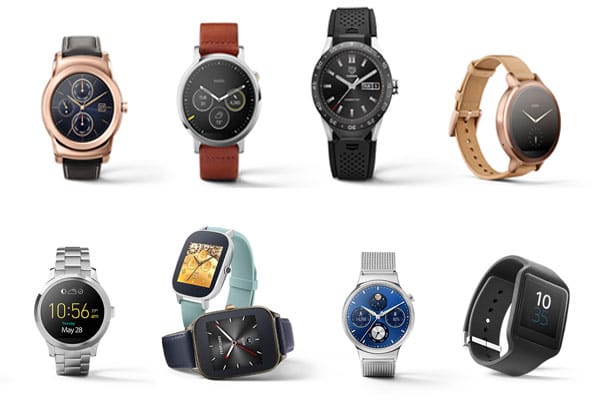 From smartwatches to fitness bands, we saw an incredible advancement in Android wearable devices in 2015. Android has quickly established itself as a main contender on the wearable stage. As we wait to see what the new year brings in the way of wearable devices, we've put together a list of the top five Android smartwatches from 2015:
Motorola Moto 360
With both leather and metal band options, the Motorola Moto 360 smartwatch is a sophisticated choice. The face of this watch is easily customized, as with many Android devices, but the most important feature of the Motorola Moto 360 is its ability to wirelessly charge. In fact, it's the only wearable of 2015 that can do so, vastly enhancing the ease and utility of the device. If you are looking for a wearable device that has the look and feel of a normal watch, this is the one for you. However, it's important to note that although the wireless charge feature has its perks, the battery life on the Motorola Moto 360 does not last as long as other wearables on the market.
Fossil Q Founder
The Fossil Q Founder is a watch for those who want wearable technology with a classy and traditional appearance. With a snappy leather band and bold styling, the Fossil Q Founder uses an Intel Atom CPU in its easily customized and modern display. It contains more RAM and CPU power than many other Android devices, making the device of choice for those looking for power. However, if you aren't a fan of big watches you might want to select a different smartwatch.
Asus ZenWatch 2
The Asus ZenWatch 2 has a large, chunky display, thin profile and an elegant, thin band. It's an excellent everyday device, with water resistance up to one meter and a powerful, comfortable design. With Google's highly accurate voice recognition, the Asus ZenWatch 2 will easily take "OK Google" commands, but the most significant advantage to this device is its price. It is one of the most affordable of wearable Android devices, coming in at a mere $129.
LG G Watch R
With a full, circular display and one of the best battery life of any Android wearable on the market, the LG G Watch R is designed to be an excellent all-around option for those who want a daily wear device. Though it's one of the more expensive wearable Android devices, it's been constructed with care. It features a particularly large, vibrant display that rivals most others.
Sony SmartWatch 3
With a sporty appearance, GPS functionality and a futuristic steel design, the Sony SmartWatch 3 is the ideal solution for individuals looking for both a smartwatch and a fitness band. Through its Android functionality and GPS tracking, the Sony SmartWatch 3 operates as a fitness tracker and running companion as well as a casual and daily, wearable device.
Android's Wear website connects consumers with thousands of wearable Android devices in a variety of styles, colors and functions. As the Android operating system becomes more advanced, it's likely that it will be used to power many new and interesting wearable technologies.