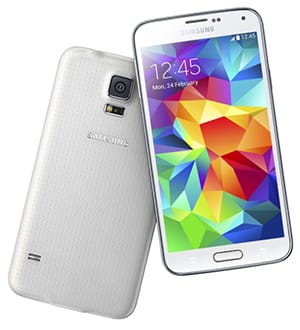 The Galaxy S5 is here, but it was revealed in a much less over-the-top fashion than last year's unveiling of the S4. Samsung chose to use Mobile World Congress is Barcelona to show off their newest flagship phone.
The most notable features are a fingerprint scanner, water and dust resistant body and a heart rate monitor. It seems Samsung is taking a few pages out of Apple and Sony's books.
A Focus on Fitness
The Galaxy S5 features S Health 3.0 and a heart rate monitor that gets a reading from your finger in about 8 seconds using the new fingerprint scanner. This fitness focus fits hand-in-hand with new Samsung Gear Fit, a wristband/watch combo that tracks your activity – walking, running, cycling, etc.
Galaxy S5 Specs
Running Android 4.4 KitKat, the Galaxy S5 features a quad-core 2.5GHz chipset, 2GB RAM, 2800mAh battery, 5.1-inch 432 ppi HD Super AMOLED screen (1,920 x 1,080) and 16 or 32GB storage with up to 128GB of expandable storage. The camera is pretty impressive, and Samsung touts it as the "strongest on the market." It features a 16MP sensor capable of shooting 4K video. The front camera is 2.1MP.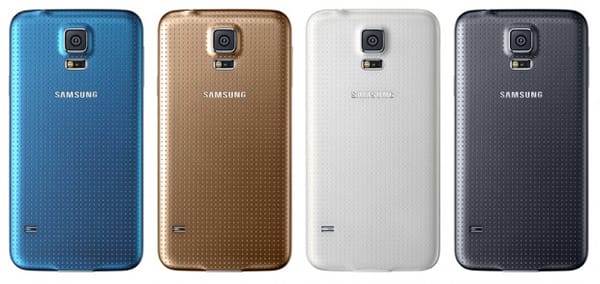 Samsung added more color options this time around, with Electric Blue, Copper Gold, Shimmery White and Charcoal Black. The body itself is similar to what we've come to expect from a Galaxy device, except this time Samsung made a slight change to the back. While still plastic, they added a more grip-able style. Although it is this style change that Twitter users likened to a band-aid, a tweet that HTC president Jason Mackenzie retweeted.