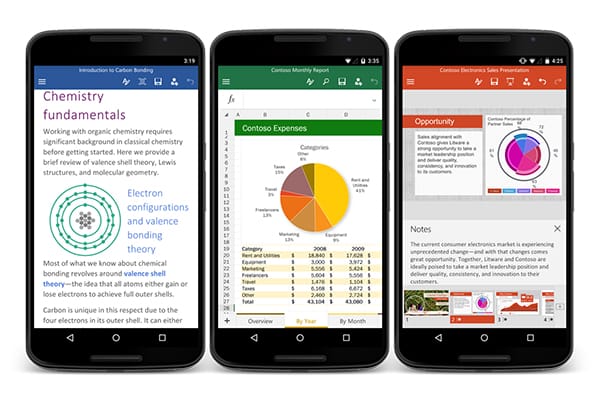 Microsoft Office, one of the most well-established software suites of all time, has finally fully embraced the modern, mobile world of computers. On June 24, Microsoft officially launched Office for Android. This mobile-friendly version of the Microsoft Office is the next logical step in the suite's development, and it has many benefits for Android users.
A Logical Step for Microsoft Office
Microsoft Office has long been seen as a powerful suite of software applications built to be used on computers. For years, it has been marketed to students and businesses who need the suite's features and have desktops and laptops with the hardware necessary to run the software.
Microsoft has gradually been taking incremental steps to shift this view of its software suite over the past year:
In February 2014, Office Online was released as a new version of Office Web Apps
On October 1, 2014, Microsoft announced that it would add a new program to Office, Sway, and it called Sway an app
Now, Microsoft has released an app version of Microsoft Office that's designed for Android phones and tablets. Microsoft Office, for the first time, is officially a suite of apps, not old-school programs.
Benefits for Android Users
There's currently three Microsoft Office apps for Android devices: Word for Android, Powerpoint for Android and Excel for Android. All of these work on both Android phones, as well as tablets.
Now that Office is available for Android, people won't have to decide between a tablet that is small and convenient and a computer that's cumbersome but can run Microsoft Office. Users can have the best of both worlds: They can run powerful apps right from their Android tablet.
If you have an Android phone, these three apps open up even more possibilities for you. For example, attachments in emails can be opened and edited on a smartphone, so you no longer need to archive these emails until a time when you're in front of a computer. Additionally, you can quickly create professional-looking documents and presentations from your phone. If your boss asks for a report while you're at the beach, you can generate it while still lounging on the sand. You don't need a computer all the time anymore, because everything can be done from an Android phone.
Releasing an app version of Microsoft Office for Android has been a long time coming, and it's finally here. Now that you can work on Word, Powerpoint and Excel documents from your phone, you can really work from anywhere and at any time.