What comes to mind when you think of ProClip USA?
Of course we have our opinions, but we were curious what our company means to those who really matter – our customers and fans!
Poll – What Phrase Best Represents ProClip USA?
We polled both our Facebook fans and a portion of our customers to determine which tagline they thought best represents the ProClip brand. We asked about taglines we either already used or that we were thinking of using. These are the four taglines we asked about:
Leading the Way in Safety and Convenience
Stop Fumbling Around
Stop Fumbling For Your Device
Cutting Edge Safety and Convenience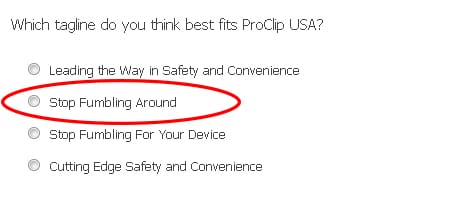 Winning Tagline
After reviewing the results of the poll on Facebook and the customer survey, we have considered everyone's opinions, including many comments we received from fans on Facebook. Based on these results, we have decided to go with the tagline "Stop Fumbling Around."
Thank you to everyone who participated in our survey and provided feedback!