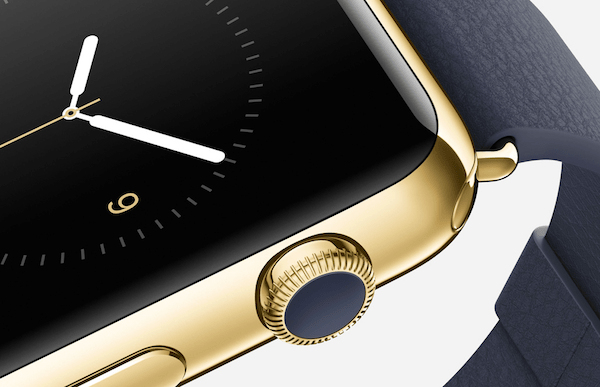 As mid-January approaches, the likelyhood of star crossed-lovers gifting each other their heartbeat through Apple Watch continues to diminish. The once strong rumor Apple Watch could be hitting store shelves in time for Valentine's day is almost completely gone. More recent rumblings continue to peg March 2015 as the more accurate 31 day period for launch.
Nearing the deadline this week, Apple's latest iOS 8.2 beta update for iPhone revealed an Apple Watch application, which was fully detailed by 9to5Mac's Mark Gurman. After a detailed look through the new iPhone app settings, several new features are now known about the otherwise mysterious functionality. While Apple did an excellent job hyping the Apple Watch launch, many finer operations were left on the Keynote cutting room floor.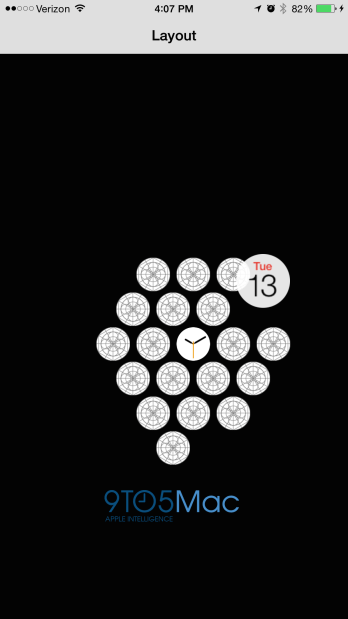 One of the biggest questions remaining about Apple Watch was how dependent the device will be on an iPhone. After the latest discoveries, it appears the answer is 'almost completely.' As seen above, even moving the screen icons will be dictated by iPhone's companion application.
Notifications Indicator will put a dot on the watch face with unread notifications. Alerts can also be pushed from iPhone, specifically alarms and timers, which can be snoozed or dismissed from the wrist. Messaging will be done through audio response or through Siri diction, which we assume will be powered through the iPhone. Read receipts can be enabled/disabled for the watch. Messages can be filtered by all messages or solely from people on the Contacts list.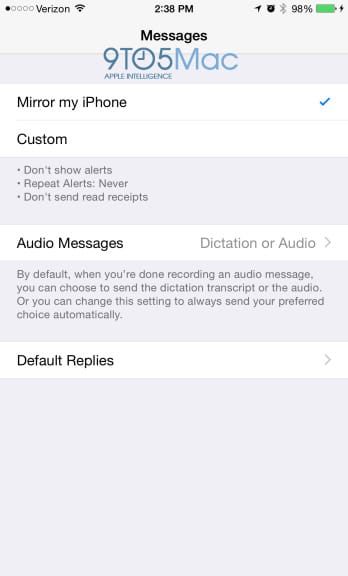 iPhone users can set a four number passcode for the device, which is required to activate Apple Pay. For Apple Pay to work, users must enter the passcode after placing Apple Watch on their wrist. Removing the watch will require the passcode to be re-entered. If entering the code is not desired, or for a quicker option, unlocking the iPhone, even through Touch ID, while wearing the watch, will also unlock the wearable. On a similar note, if the onboard passcode is entered incorrectly 10 times, the user can opt for Apple Watch to self-terminate stored data.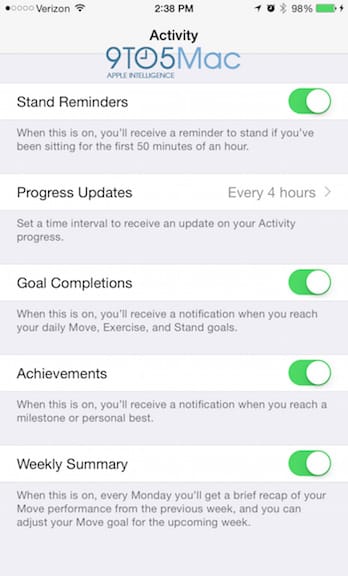 As advertised at the announcement presser, Apple Watch will alert you to activity information. Apple Watch can provide users with a notification to stand, if a sitting position is maintained for more than 50 consecutive minutes. Activity updates can be delivered every 4, 6, or 8 hours, highlighting the goal users are closest to achieving, for example–steps.
Other questions that still remain surrounding third party applications. It appears through Apple's development site that Apple Watch apps may be extensions of iPhone apps. This would mean that a dedicated Apple Watch App Store may be years away, if one launches at all. Using an iPhone application to install and operate Apple Watch functionality, ensures the Apple Watch is certainly not a stand alone device. Based on early estimates, it appears the Apple Watch cannot even source GPS data without the lifting being done by iPhone. Will you still need to drag iPhone along on your run for accurate data? We may soon find out all the details.
It is reasonable to assume Apple may very well hold another media event in the early part of 2015, updating other smaller products while shoring up final details of Apple Watch, including pre-order and launch dates.
If you have to have all the newest gadgets for Apple, checkout our mounting solutions for iPhone 6 and 6 Plus – they're the best!