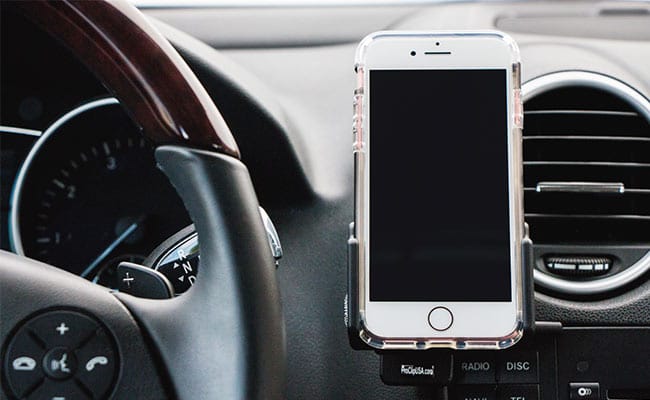 You are probably well aware by now that the iPhone 7 is available for purchase. As more and more Apple fans upgrade to the newest flagship device, we wasted no time at ProClip getting our top of the line adjustable car phone holders ready to go. Here's a look at our top universal non-charging phone holder options for the iPhone 7 along with our top picks of phone cases to go with them.
Top Cases and Adjustable Non-Charging Car Phone Holders
Creating top quality car phone holders and mounts is what do best, and we've carried on that tradition with the iPhone 7. Our universal adjustable holders work perfectly for phones with cases. Our holders are made from the finest material and look like they were designed by the original car manufacturer themselves. Our universal non-charging holders for the iPhone 7 are easy to install and come with a tilt swivel to allow you to view your device in portrait or landscape, which is perfect for navigation! Providing the perfect fit is very important to us, which is why we offer a variety of adjustable holders. We've outlined our top three non-charging holders and the most popular phone cases to go with them.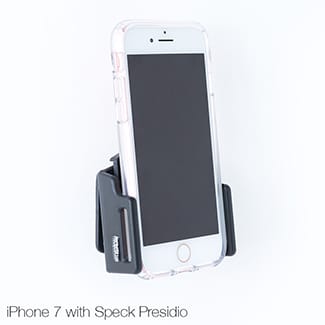 Option 1 works best for phones that use a small- to medium-sized case. A perfect example of this is the Speck Presidio case for the iPhone 7. This case will protect your phone up to a 10-foot drop and comes with a dual-layer design and IMPACTIUM™ shock barrier. It has responsive buttons, a scratch-resistant surface, and is available in seven different color options.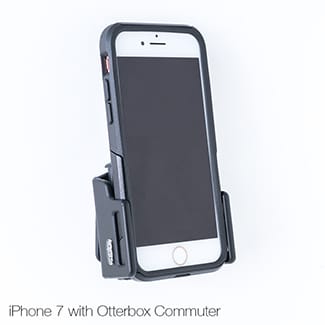 The second option works best for phones that use a medium-sized case, like the Otterbox Commuter. The Otterbox Commuter is a great option if you want to keep your phone slim and sleek, but you don't want to sacrifice protection. This case will keep your iPhone 7 safe from dust, scratches and unexpected drops.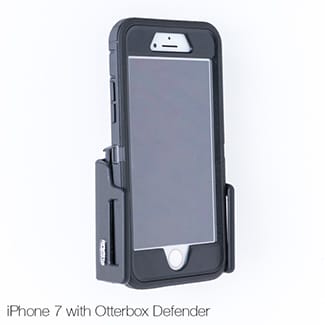 Our last option is perfect for phones that use a rugged case, such as the Otterbox Defender. If you're looking to give your iPhone 7 the best protection, you can't go wrong with the Otterbox Defender case. This case provides a triple-layer of protection and has screen protection that's built into the case. It's available in six color options and has the option to come with a holster that works as a belt clip and kickstand.
Custom Dashboard Mounts
Our universal adjustable phone holders are a part of our two-part mounting solution. After you pick out the right adjustable phone holder for your needs, you will want to pick out a custom dashboard mount. Each of our dashboard mounts are designed to fit the exact dimensions of the vehicle it is being placed in to provide a secure and sturdy mounting solution. Our mounts can be installed in less than five minutes and will not cause damage to your dash.