If you're not a die-hard Apple fan or a lover of some of the latest Android tablets, like the Google Nexus 7, you may be interested in Amazon's most recent tablet, the Kindle Fire HD. See a comparison of these popular tablets if you're still settling on a tablet brand.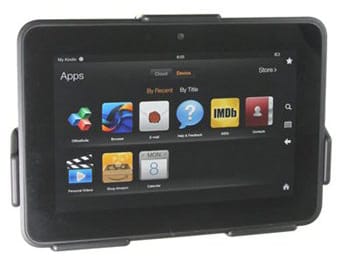 Kindle Fire HD Tablet Specs
Amazon's Kindle Fire HD is a 7-inch tablet featuring a 1280 x 800 pixel, IPS LCD screen. It runs a custom Android operating system with 1GB of RAM and the option of either 16 or 32GB of storage. There is no rear facing camera, but a 720p front-facing camera. In the U.S., the Kindle Fire HD is currently selling at $199 for a 16GB and $249 for the 32GB.
Kindle Fire HD ProClip USA Tablet Holder
We have a tilt swivel holder for Amazon's Kindle Fire HD. This holder will allow you to view Amazon's newest tablet in either portrait or landscape mode and angle the tablet to avoid glare and find your optimal viewing position. The holder is custom fit to hold the tablet securely, yet it allows you to easily slide the Fire HD in and out of the holder for convenience. This holder is made of heat and cold resistant, high-quality ABS plastic that is machined and hand tooled for superior quality.
Using the Kindle Fire HD Holder with a ProClip USA Vehicle Mount
This holder will work with most of our vehicle mounts. Be aware that due to the size of the Kindle Fire HD, and of tablets in general, some buttons on your dashboard may be blocked and some mount positions may not work with this holder. Make sure you know where in your car you will have room to mount the Kindle Fire HD and choose that position when selecting your vehicle mount.
Stay Up-to-Date On All of Our Latest Product Releases
Follow us on Twitter and connect with us on Facebook to be the first to know when our newest products are released. And, don't be shy! We love to hear your feedback! Do you have the Kindle Fire HD holder? Let us know what you think or ask us any questions you may have!